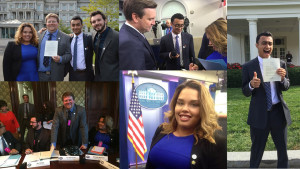 A week before College Radio Day 2015 (October 2nd) a group of college radio students from across the country visited the White House, the first known group to represent the medium of college radio. The group was formed of students and staff involved with the College Radio Day organization.
During their visit the students also interviewed Obama administration officials on issues important to them and their campuses, such as college affordability and the problem of sexual assault on campus.
Regarding these issues, the students met with Valerie Jarrett, Senior Advisor to the President, and Kyle Lierman, Associate Director of Public Engagement and Senior Policy Advisor, to discuss, on-the-record, the government's "It's On Us" campaign to end campus sexual assault. The group then met with Cecelia Muñoz, Assistant to the President and Director of the Domestic Policy Council, and James Kvaal, Deputy Director of the White House Domestic Policy Council, to discuss the topic of college affordability.
The students also met with Josh Earnest, Assistant to the President and Press Secretary, for a lively discussion in the Roosevelt Room on the role of the media, and the importance of college radio especially.
The results of the interviews will be broadcast in the 'College Radio White House Special' simulcast on College Radio Day, October 2nd. The 1-hour program will feature the students' interviews and impressions from their time at the White House.
At the conclusion of the visit the group was presented with a letter from President Obama wishing them a successful College Radio Day 2015 and also stating:
By keeping the legacy of college radio stations alive and strong, students on campuses from coast to coast experience the thrills of sharing and discovering media and creating stimulating programming. In doing so, they are lending their talents to a tradition that has been unfolding for generations and inspiring others to join in the work of shaping our future's course.
Founder of College Radio Day, Dr. Rob Quicke (a communications professor at William Paterson University, NJ), said the students enjoyed their experience: "This was a once-in-a-lifetime opportunity for the students and staff who were in the group. They enjoyed their time immensely and took very seriously the opportunity to interview key government officials about issues that students are facing today." The group of 15 came from just five college radio stations across the country (WNUW at Neumann University, WPSC at William Paterson University, KCWU at Central Washington University, WDWN at Cayuga Community College, and Radio Warner at Warner University).