We are proud to announce the 2022 College Radio Day USA Board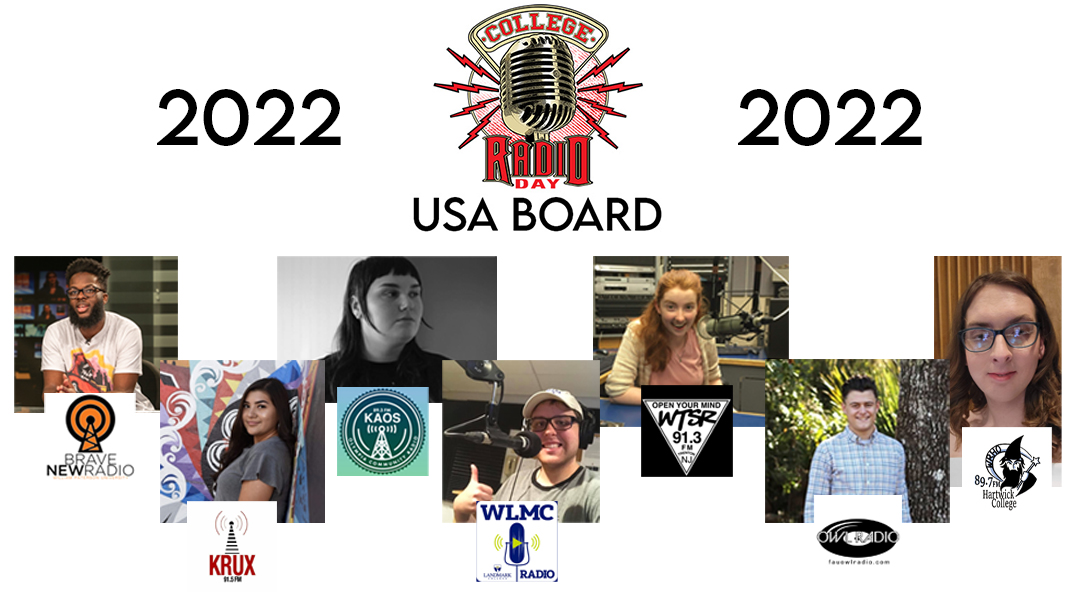 Name: Nancy Bowne
Radio Station:
91.3 WTSR FM, New Jersey
College/University:
The College of New Jersey
Your Role:
Program Manager
Why is college radio so important?
"I could never listen to R.E.M. as a kid without my Dad mentioning it was the "college radio sound." Considering this band gained popularity playing at colleges and their stations, soon becoming very mainstream, I was always curious about the college influence and building a platform for budding artists of any genre.
Whether as staff or eBoard, I have always prioritized and recognized that college radio stations are important as a community platform for outreach, interviews, and events, as much as a place to explore new sounds, names, and label-bending genres. Becoming a member of a college radio station is more than a club; it has been a job that I am grateful to explore building teams and families, delegating tasks and events, producing shows, and just getting creative with content."
Name: Luke Campese
Radio Station:
Owl Radio
College/University:
Florida Atlantic University
Your Role:
Station Manager
Why is college radio so important?
"College radio gives students the wonderful opportunity of exploring their interests through shows and allows them to express themselves. It is also important as it helps students adjust to their career in the entertainment business after college."

Name: Daquiri Dalton Torres
Radio Station:
KRUX 91.5 FM
College/University:
New Mexico State University
Your Role:
General Manager
Why is college radio so important?
"To me college radio is important, first and foremost because, in many of our situations, it gives us experience before graduation to help us in our careers. But mainly because it is an outlet we as students can use creatively to have a voice and just express our interests."
Name: Olive Keiholtz
Radio Station:
KAOS Olympia 89.3
College/University:
The Evergreen State College
Your Role:
Music Director
Why is college radio so important?
"College radio gives many people a much needed safe space, and often purpose as well. It is incredibly enriching to be closely involved in college radio, and beneficial for the community surrounding. In a day where most stations are commercial and mostly advertisements, it's important to provide accessible, free music to our community without the auditory obligations of ads."
Name: Daniel Molster
Radio Station:
WLMC Landmark College Radio
College/University:
Landmark College (Putney, VT)
Your Role:
Station Manager
Why is college radio so important?
"College Radio is so important because it is a gateway for future broadcasters. The ability to express yourself and be creative is so so important. One of the biggest things I value as a Station Manager is creativity. I encourage my DJs to play the music they want, talk about the topics they enjoy, and be themselves. It's not only a future gateway, but it's a way to self-express and be yourself. There's so much on-air "magic" that sometimes I think people forget they're broadcasting. My favorite thing about being the Station Manager is that I get to work 1-1 with DJs to support their coursework, goals as a broadcaster, and support with whatever they need. I've seen so much transformation from some of my DJs in the 2 years I've been managing WLMC and it really is mind-blowing to see how far some of them come over time. I recommend every student participate in college radio while they have the opportunity to."
Name: Claire Richardson
Radio Station:
WRHO
College/University:
Hartwick College
Your Role:
Station Manager
Why is college radio so important?
"College radio is so important as it builds up confidence and allows for an individuals voice to be heard. I found my voice in radio."
Name: Nicholas Wilkerson
Radio Station:
Brave New Radio
College/University:
William Paterson University of New Jersey
Your Role:
Promotions and Events Director
Why is college radio so important?
"College radio is important because it provides a platform for students to begin practicing what they want to for their career. Many jobs require experience and college radio is an amazing way to get it."