For all college and high school radio stations!
We are now just one month away from our 5th annual College Radio Day! If you haven't registered yet, please do so today! You'll be standing with hundreds stations from around the nation as we celebrate this momentous occasion!
If your station hasn't registered yet, you can do so by following the link: http://www.collegeradioday.com/register. If your station has participated before, please use the 30-sec registration form here: http://goo.gl/SB45J7. If your station has not participated before, or you're not sure if your station has participated in the past you can fill out the new station registration here: http://goo.gl/ZbA0BT.
Now for some updates regarding this year's event:
COLLEGE RADIO FOREVER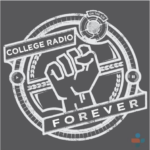 We are proud to announce that College Radio Day, in partnership with TuneIn.com will launch a new college-radio dedicated TuneIn station on College Radio Day: College Radio Forever. This new station, College Radio Forever, will feature programming from college radio stations that register for College Radio Day to be spotlighted on our forthcoming new website https://www.collegeradio.org. Each week, the College Radio Foundation and College Radio Day will feature one college station to help spread the word about the unique programming you are doing on your airwaves.
INAUGURAL 24-HOUR NATIONAL COLLEGE RADIO MARATHON
Along with this announcement, College Radio Day is also excited to say that on College Radio Day, the College Radio Forever TuneIn stream will feature the first ever 24-hour National College Radio Marathon. The Marathon will feature college radio stations from around the United States, each station broadcasting for an hour before handing over to another college radio station in another state.
With this in mind, we are looking to fill the 24 hours of spots with YOUR college radio station. What we are asking is that you e-mail [email protected] and tell us of the unique/special programming you will be providing on College Radio Day. What would you do with your hour, if your station were picked? Those with the most unique and diverse programming ideas will gain a spot on the first ever 24-hour National College Radio Marathon.
THE SIMULCAST IS BACK!
Returning for its second year is the College Radio Day Simulcast – which will be made available to all stations to broadcast on their own airwaves. The date of broadcast will be Friday, October 2, 2015 at 1 p.m. EDST (10 a.m. PDST) – or at a time of your own choosing on the same day. Also, as a reminder, we invite stations to provide shoutouts for this year's one-hour simulcast. The content will feature special interviews with artists, content from college stations across the country, as well as a special 'State of College Radio' interview with Jennifer Waits from RadioSurvivor.com looking back at the events that have impacted college radio since the last College Radio Day.
We would also like to have a liner from your station! This liner should state who you are, your station name, college or university name and the fact that everyone around the country is tuned into College Radio Day 2015. Please provide those liners to us (mp3 format – no more than 20 seconds each) at [email protected]. We'll be glad to your voices of support in this year's simulcast (first come first served, as we have limited space – so send them in now).
LAST DAY FOR FREE SWEEPER!
In addition, today is the last day to register in order to get your free, personalized professionally produced sweeper. As we've said before, your station will receive this in addition to the free premium SoundCloud account, as well as all the other perks provided just for signing up and being involved with College Radio Day. Where else can you sign up as a college radio station, receive $1000 worth of stuff and not pay a dime?
Lastly, we are always curious what stations are doing to celebrate College Radio Day. With this in mind, feel free to e-mail us at [email protected]. Not sure what to do for your own College Radio Extravaganza? E-mail us at this address too and we'd be more than happy to help you brainstorm some ideas to make this, the 5th Annual CRD the best one yet.
Long Live College Radio!
Anthony Saia
President
College Radio Day
[email protected]
www.collegeradioday.com