[soundcloud url="https://api.soundcloud.com/tracks/226309070″ params="color=ff5500&auto_play=false&hide_related=false&show_comments=true&show_user=true&show_reposts=false" width="100%" height="166″ iframe="true" /]
The Police were an English rock band formed in London in 1977. They disbanded in 1986, but reunited in early 2007 for a hugely successful one-off world tour that ended in August 2008. The Police have sold over 75 million records, making them one of the world's best-selling artists of all time. The band has won a number of music awards throughout their career, including six Grammy Awards, two Brit Awards—winning Best British Group once, an MTV Video Music Award, and in 2003 were inducted into the Rock and Roll Hall of Fame.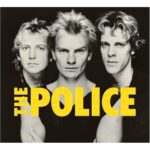 Continuing the tradition of big name interviews exclusively for College Radio Day (last year we had Moby, Andrew WK, and previously we've had Wyclef Jean, The Lumineers and Coldplay) College Radio Day's Rob Quicke interviewed drummer Stewart Copeland and found out that his career began in college radio! This interview is made available for all College Radio Day and World College Radio Day participating stations to download and play on the air on Friday, October 2nd. An edited, shorter version is going to be included in the CRd 2015 simulcast.