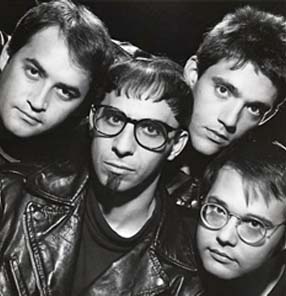 By Dave Sarkies
This time last year, as we rolled toward College Radio Day 2020, I wrote an article about some of the major bands of the 'college rock' era of the '80s and early '90s, many of whom might not have had the success they ultimately achieved if not for college radio.
Among those acts was The Smithereens, a band whose music would have sounded as contemporary in the '60s as it did in the '80s. Their distinct brand of hooky power pop with a retro, British Invasion flair, spearheaded by the vocals and songwriting of late frontman Pat DiNizio, garnered legions of fans.
Recently, I had a chance to chat with drummer Dennis Diken and guitarist Jim Babjak about the band's storied career, and how college radio helped them along.
It all started when Diken and Babjak met on their first day of high school and bonded over a mutual love of The Beatles, The Who, and other British Invasion bands. Along with classmate and bass player Mike Mesaros, they formed the nucleus of The Smithereens, before connecting with DiNizio when Diken answered an ad in a local music newspaper.
"I found an ad in the Aquarian," he explains, "for a band seeking a drummer in a cover group playing music by The Who, the Jam, The Beatles, Elvis Costello and Buddy Holly. I answered the ad and on the other side of the phone was Pat DiNizio." Diken played with DiNizio on some demos, then brought Babjak and Mesaros along, and it came together. "The three of us really meshed," Babjak adds. "We had a thing, so by the time we met Pat it was like a no-brainer."
Hailing from New Jersey, a state known for producing hard-working rock 'n' roll acts, The Smithereens played for years at clubs like New York's legendary Kenny's Castaways in Greenwich Village before reaching stardom. But they'll be the first to agree that their success was aided in large part by college radio – and a guy who used to be a college radio DJ – Scott Vanderbilt at Enigma Records, with whom they released their first album, distributed by Capitol. But even with a record deal, the support of college radio in those early years was key.
"College radio played a big role," Diken says. "I can remember the first time hearing our music on the radio, it was on a college radio broadcast. I think it was either WRSU at Rutgers, or it might have been Middlesex County College radio. That was one of the big thrills, hearing your music come across the airwaves. That was on a college station." In the ensuing years, college radio airplay was common. "We always maintained a stronghold in college radio," Diken notes.
Despite that, Babjak tells an amusing tale about how the band was initially not played on a college station when they were told they would be. "We were thrilled when a WRSU DJ said he'd play a song from our first record, Girls About Town, at a certain time. Afterward, a friend called the DJ and said, 'That Smithereens record is really great!'" The excited friend and the band were disappointed when the DJ responded, 'I actually didn't play it.'
Even with that initial disappointment, WRSU and other college stations across the Garden State – and the country – did play Girls About Town, as well as 1983's Beauty and Sadness EP. Both records were heavily supported by college radio, and when their first full-length album was released in 1986, Especially for You, college radio was all over it – particularly "Blood and Roses," "Behind the Wall of Sleep," and the comical "White Castle Blues." 1988's legendary Green Thoughts also received significant college radio airplay.
On the heels of that success came commercial radio play for "Only a Memory," "A Girl Like You," "Too Much Passion," and "Miles from Nowhere," multiple albums, and tours of the U.S. and the world, culminating in their induction into the New Jersey Hall of Fame in 2019.
Sadly, DiNizio didn't live to enjoy the honor, passing away in late 2017 following a series of health problems. Despite his untimely passing, his bandmates decided to carry on.
"Pat died in December, and we had a show booked in January," Babjak recalls. "We decided to get as many of our friends that can sing to do a song or two."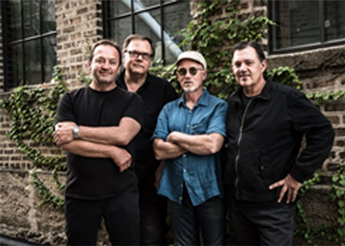 "We called friends that liked the band and had them come up as guest vocalists," Diken adds. "Marshall Crenshaw was among them. He's an old friend, and when he sang with us, it felt like a family reunion in a way – it just felt right." Robin Wilson of Gin Blossoms joined as well. "He was a big fan and it just clicked when he sang with us, and the audience loved it," the drummer notes.
The show was a huge success, after which the band decided that continuing with guest vocalists was the way to proceed. And that's just what they've done, touring the U.S., performing with Crenshaw, Wilson, and Susan Cowsill of the Cowsills.
When they're not performing, they're often supporting college radio; listening at home or as they travel from show to show or contributing in some form. Diken hosts a weekly show called Denny's Den on WFMU's Rock 'N' Soul Radio in East Orange, NJ – not a college station but an independent that began as a college station at Upsala College – while Babjak performed for a fundraiser for 90.5 The Night – Brookdale Public Radio at Brookdale Community College during the pandemic.
Both praise the diverse programming of college radio and those keeping the platform alive and thriving. "College radio is the place where you're going to find adventure in programming," says Diken. "I encourage people on the air to keep that pioneer spirit alive." He adds that as a music fan, college radio has a lot of meaning for him, as there's something for everybody.
Babjak concurs. "I like the diversity of it. That's one of the great things about it. Turning people on to something new and something great."
The two emphasize how important college radio is to young bands in getting their music heard, just as it was for The Smithereens in the '80s. "Embrace college radio," Diken insists. "That's where you're going to find support. That's where you're going to reach people you may not reach on any other platform."
Diken and Babjak also agree on the importance of supporting college radio to keep the platform alive. "You've got to support these stations because without that support, they're going to go away, and you're just going to be hearing the same old stuff," Diken insists. Babjak says he donates to 90.5 The Night and tunes in often for a range of great new music.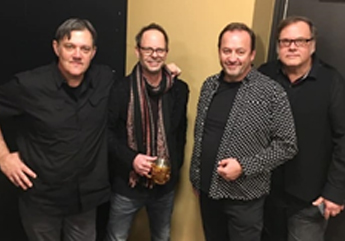 Speaking of new music, The Smithereens are planning a new album, and are enthusiastic about carrying the band's legacy into the future.
It's clear they also remain enthusiastic about – and grateful to – college radio. From the airplay they received of their own music, that helped propel them to rock stardom, and the opportunities for new bands to get attention, to the students bringing great music to the airwaves and the wide range of programming for listeners to enjoy, college radio is near and dear to The Smithereens' hearts.

We invite you to join The Smithereens in celebrating College Radio Day in the U.S. and World College Radio Day globally on college radio stations around the world, Friday, October 1st. Tune in and support college radio!