Marlin Taylor has enjoyed a remarkable career in radio and is considered as the father of radio's easy listening format, often known as the beautiful music format. From humble origins in Pennsylvania to his career in New York City at WRFM and the remarkable success he had in the Big Apple, to his time at Sirius XM Radio and his overseeing several of their music channels, Taylor has had a massive impact in the world of radio. His programming has been heard by millions of people over the decades. Marlin is also author of the book, Radio: My Love, My Passion which is an engrossing read for anyone interested in the history of radio.

Rob Quicke interviewed Marlin for Collegeradio.org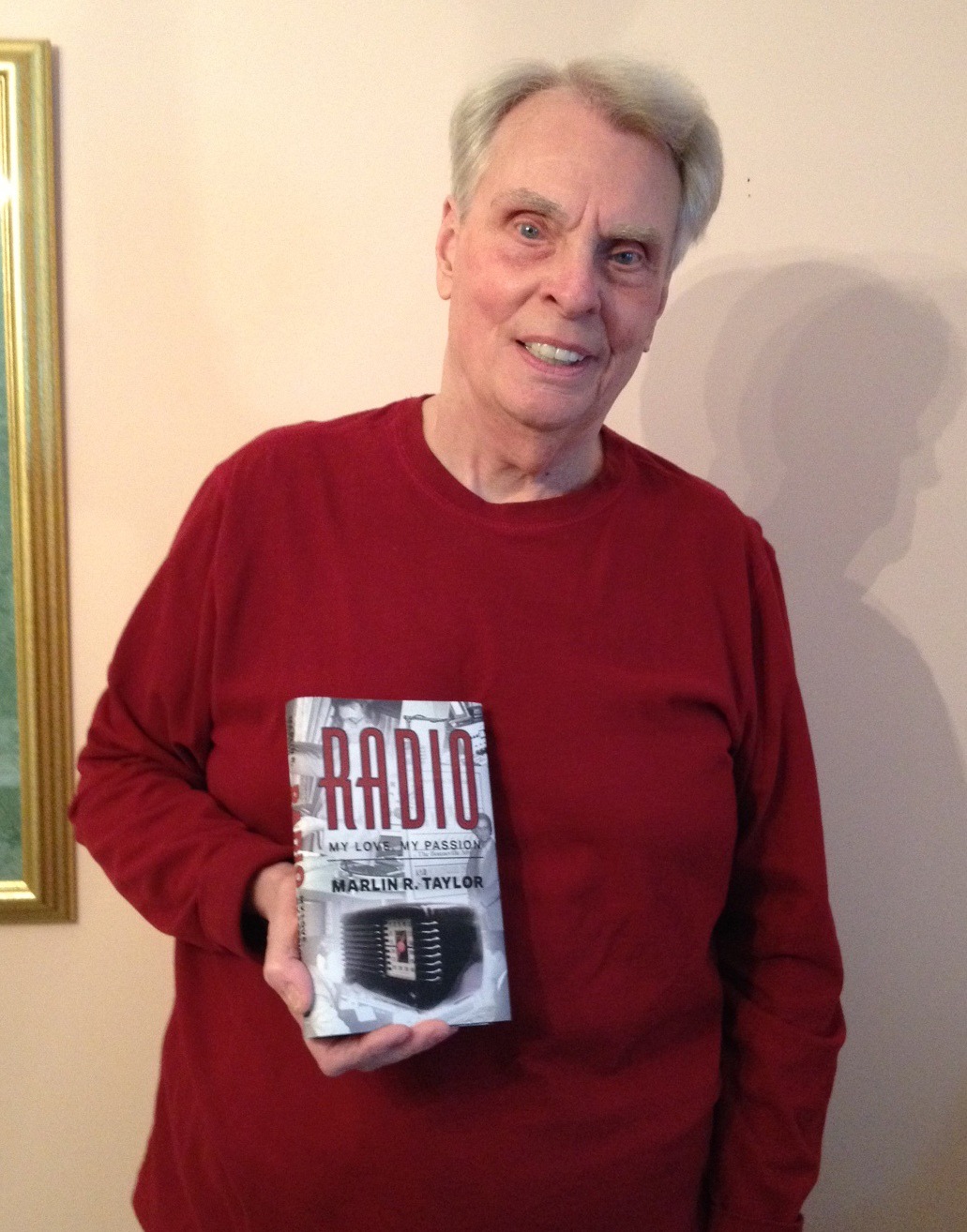 RQ: I want to go back to your childhood because you grew up in rural Pennsylvania, right?
MT: That's correct. Yes, outside of the city limits of Philadelphia. But in the 1940s, it was still quite rural.
RQ: You write in your book, you probably were no older than seven or eight years old, but you spied a box of vinyl records sitting in front of a neighbor's house waiting for the trashman. And you just knew that you had to have those records. How important were those records ultimately, in setting you on your career path in radio?
MT: I'm not quite sure even how I knew what they were, but somehow, I instinctively did. And I ran home and got my little red wagon and hauled them home and my mother, who was a single mother, managed to find a one of those old-fashioned record players. And the sound came out of the little diaphragm that sat on top above the stylus, or needle, as we would call it. I don't remember too much, all I remember are two records. One of them was a Benny Goodman record, I don't remember what the song was. And the other one was an old Christian hymn called Fairest Lord Jesus, and I don't remember who the artist was. But those two stick in my mind, there was probably 15 or 20 records in the whole group.
RQ: You quickly learned that needles would break easily, and replacements were not easy to come by. So, you learned that you could cut off and use the tip of a safety pin as a substitute although that surely almost ruined or damaged the records? How did you learn to do that?
MT: I needed something, and I guess since these needles were basically little steel things with tips on, the pointed end of a safety pin, so you give it a try. My life is basically built on instincts and intuition, all the way through. I mean, here was a kid who really didn't care about going to school, although I did fairly well in the earlier years of schooling, I just seem to have a sense about things and it's managed to get me through life.
People earlier in my career, when I started to have success, asked me where did you go to college to learn this? And nothing against college, but I didn't go to college. Basically, I didn't have a great desire, and my family certainly didn't have the money to send me. There's a lot of things that college and school can teach you, but there's things like this, really you can't learn in school. Maybe you can have guidance that makes you inquisitive enough to figure it out, but this wasn't something being taught.
RQ: Your first ever proper job at a radio station was in Trenton, New Jersey, WTNJ. Do you remember how you got that job?
MT: Well, there was a fella who was a disc jockey on afternoons on that station, it was a two-bit radio station, been on the air in some form since 1922. His name was Ray McFadden. I heard him a few years earlier on a little AM station in Philadelphia, where he basically was the morning staff announcer. So, I decided I would go find the radio station and dropped in one Saturday afternoon and he welcomed me in. And so, I just kept on going back. And along the way, after, I don't know, probably three or four months of doing this, a lot of Saturday afternoons, he said Ray, and I was basically known as Ray back in those days. That's my middle name. And he said this morning, he had another DJ for the station, we're going to do an afternoon remote from a car dealership, over in the Pennsylvania side of the Delaware River. And the station being what it was, an antique, it didn't have much in the way of equipment, he knew that I had stuff of my own that I possessed. And he said, you know, you could be the engineer, we'll pay you to be the engineer, if you could bring along so and so, which included outdoor horn speakers to put on top of the dealership showroom, and a couple of extra microphones. The station only had two real microphones that worked well. Anyway, fortunately, somehow, I had amassed enough and could borrow the things that were needed to do this remote. And so that's how I got my first job. And then a Sunday morning board operator job opened up. Since I was sort of already on the payroll, they allowed me to slip into that. I had a third-class ticket, which is no longer valid for anything. And that gave me entree to, once in a while, do a fill in at the transmitter sites. So that got me in the door.
RQ: You write in your book, some key important moments when you developed some realizations. You say in your book for you in terms of radio programming, the key was finding ways of building an emotional and personal connection with the individual listener so that he or she became yours as long as you kept reliably delivering what they were anticipating and didn't take advantage of them. So, at what point did you develop that?
MT: I'm just a down-to-earth person. You know, I'm only one generation removed from the farm, and my mother and my uncles, her brothers, all grew up on a farm, not far from where we lived in, Bucks County outside of Philadelphia. So I was in no way a big city boy. I didn't have a lot of super education. I just was sort of, even in school, maybe a little bit of the outsider. But yet, I'm the guy that played the records for dancing in the gym at lunchtime. And I'm the guy who played the records for the evening dances at the school, because in no way while I was a dancer, and I was too shy to really ask anybody, a girl, to go anywhere!
You have to have a relationship. Relationships are all about the world today. What's the title of that number one Christmas song? All I Want for Christmas Is You right? That's a cry for love. We need more love. And we need more connection with fellow human beings. There's a lot of lonely people in this world today. So, if you keep being connected, have a desire to relate to your listeners, if you understand what they want, you provide it. Too many cases today, somebody up on high tells everybody what they have to say on the air. They're not allowed to think for themselves, or play what they think is right.
RQ: You've been credited and known, for being the father of the beautiful music format, or easy listening. Tell us about that. How did you create that music format?
MT: Well, there was nobody that was doing that type of format, near 100% of what I felt was the way it needed to go. They all had one major weakness or at least a couple of significant weaknesses. A lot of stations still, even though Top 40 had shown the way that you did it 24-hours a day, as much as seven days a week if you could. Nobody in this adult type of programming of easy listening, or whatever you want to call it, beautiful music. Nobody was doing it on a 24-hour basis. And many of them were still from different approaches, different stations doing different things. One in Philadelphia was fairly close to 24 hours a day, but they were still stuck very much into the Big Band era in a lot of their programming and their artists that they played. Other stations were still leaning on the, I guess you might call, classical music direction.
My approach was to recognize the basic string orchestra, of one sort or another. And the key to me was, as we could find the recordings, playing melodies that were more in tune with the day. I mean by 1963, The Beatles were just about to come on the scene. There were a lot of pop artists in the 50s and into the 60s, and instrumental type artists. They were starting to do instrumental covers of the top tunes of the day. For me, they were the things that were relevant to the audience that we were trying to reach.
But it was being in tune, asking what's going to make the listener happy, what's gonna keep them listening to the station? And so, you're gonna see all those aspects in 24 hours a day and playing music that was relevant to people in the early 1960s.
I can't remember everything, but I remember significantly picking up the phone one day, I happened to be standing into studio and answering the phone, and a listener wants to know, what the recording was being played at the moment? And I said, Oh, that's Michelle, played by The Hollyridge Strings, which had odd cover tunes of The Beatles and whatever, and some other artists of the day, and I just happened to mention, Oh, that's a song by The Beatles. And you could hear he was shocked. You might have not cared for the Beatles themselves, depending on your age, or your musical taste. But those melodies are unbeatable. They will stand the test of time, they'll be around 100 years from now, if we still have, you know, great music in the world 100 years from now, because there's no better melodies ever written than those done by Lennon and McCartney!
RQ: You write in your book that you came to view radio, particularly your format, as a utility, as something that was useful for people's lives. It's as if your format was deliberately created as a way of getting people through the day and through their lives.
MT: I really thought about it at the time from that aspect. But my life has always been about, and even today, some of the things I tried to do have really nothing to do with radio, is to bring joy and happiness to someone's life today. I don't know where that came from. I came from a very kind and compassionate family. We didn't have much money. During the Second World War, we ate whatever food we could get. But just bringing entertainment brightens people's lives. In fact, I probably sound like a commercial, but on my website right now I have my latest, what I call musings, a glorified blog, I'm writing about music as therapy. And one of the aspects related to what we're talking about is, how we would get emails over the years, telephone calls or written notes in the earlier years, about people commuting and more than once to hear from somebody who would say, Well, you know, this is not my most favorite type of music, genre of music, even though I know a lot of the melodies, but during my hectic commute to and from work, I've turned on your station, because it helps keep me calm in this chaos I'm in the middle of!
RQ: What advice would you give to young people, probably students, who want to get involved with radio?
MT: Well, it's not easy today because you read about all the people that are being terminated at so many stations, but the opportunities are there somewhere. You just have to be aggressive and you just have to search. You have to be intuitive. Nobody came looking for me on any of my jobs. I didn't get the New York by somebody coming to look for me, or by somebody putting an ad in the newspaper. It's reading the trade press looking, even if you live in a small town or an area where there are no radio stations. What can you do to get your foot in the door? What else can you do to help? Come up with an idea that somebody might grab onto especially one that you know, that could be useful in developing revenue.
I had beliefs and principles. I believed that I knew what was best for my listeners, and I fought for what was right. You have to have some principles too.
On Vinylthon 2021, which is taking place on April 17, we will be giving away free copies of Marlin's book! Stay tuned for more updates!