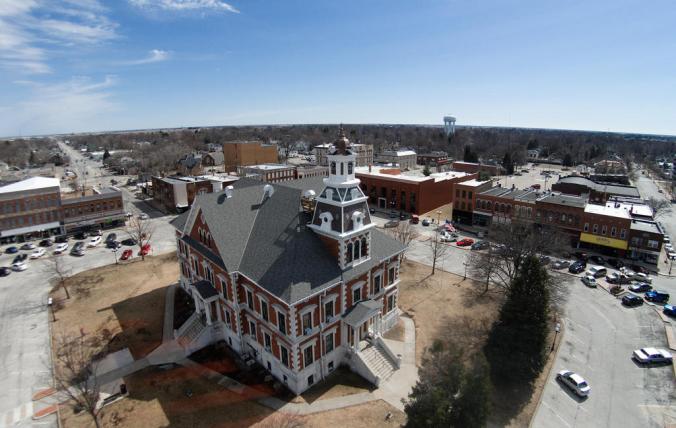 (Above: The square in downtown Macomb. I vaguely remember a restaurant there called "Eat," which I am sure is long gone by now.)
By Len O'Kelly
March 6, 1990 was a Tuesday. In Macomb, Illinois, students at Western Illinois University were preparing for their much-needed spring break. This meant the usual routine of working out where to buy a fake ID and packing a bag full of swimwear in anticipation for a vacation full of partying and soaking up the sun. There was one thing unusual, though. Among them was an interloper: a college-aged radio veteran posing as a student solely to get access to the student radio station. This particular young man had failed out, essentially, from his "big job" in the Quad Cities, but couldn't bring himself to return home with his tail between his legs to start over. Instead, he moved to Macomb, enrolled just long enough to get on the college radio station – WIUS – which he worked on just long enough to get noticed by one of the professional stations in town, WJEQ. This show is from right about that crossover time, and the almost-21-year-old morning star is holding court. Let's see what we have here:
-First, we have what may be the worst newscast in the history of college radio, or any radio for that matter. All that is written on the tape is "Cindy's newscast," and Cindy never gives her full name (or any name, for that matter). What I do remember about Cindy is that she was a cheerleader, and she was distractingly pretty. Cindy would have made a bishop kick a hole in a stained glass window, to steal a phrase my stepfather stole from elsewhere. Of course, everybody gets something, and the looks were given to cover a apparent lack of an ability to read. In this cast Cindy will mispronounce both "Illinois" and "Chicago," change the name of the Philadelphia basketball team to the 69ers, and generally sound like a grade school kid who shouldn't be in college. I tried to banter with her afterwards, but that just redefines awkward. She brought up sports betting in Colorado so we could talk about college basketball to reduce the awkwardness but it didn't work. We were finally able to find common ground when we started talking about how to bet on sport in Florida here and in other states. It eased a little of the awkwardness. This takes up the first five minutes or so of the aircheck.
We infer that there is no pre-planned music log for the day. "It's just a total free for all here this morning!" Usually at WIUS I was presented with a handwritten music log, and on days where I couldn't find it, I just played what I wanted to. It's quite possible that after that newscast I pitched the list, claiming that it was lost, and went on to try and save the show.
-Music features "Hittin' Where It Hurts" by Webb Wilder, Dramarama's "Last Cigarette" (which I wrote about here), and "Train In Vain" by the Clash. We have a tease for the "Audience Bribery" feature, which I assume is a giveaway, and more music.
-Decent music continues: We get "You Ain't Seen Nothin' Yet" by Figures On a Beach and "As Tears Go By" by the Primitives. The DJ wisely points out that they are remakes. The contest is for food from Sam's Fish and Chips, which I remember had an excellent taco burger. It's another tease, and a weather forecast, and more music. This show is moving quickly and, actually, sounds pretty smooth.
-We now get "Here Comes the Groom" by John Wesley Harding and "No Myth" by Michael Penn. Both were new-ish at that time, and I took a liking to both of them, especially the Michael Penn March LP. If I were constructing a soundtrack solely based on the confusion that was life in the first half of 1990, that LP would definitely figure into it. It's a song that should be getting a lot more airplay than it does.
-Now we get reminded that this is college radio. "Accidents Will Happen" by Elvis Costello begins skipping furiously, but I don't seem to notice it. We get through most of it until Nick Lowe's "Cruel To Be Kind" is cued up. Up until this point I forgot that this was all vinyl and all being manually started and stopped. The board is being run hangover-tight this morning. I must have been trying to remind my new bosses that they made a good hire.
-After that four-song sweep we get a little bit of personality – "an abbreviated version of Elvis Costello's Accidents Will Happen" and a time check reminding you not to be late to 9am class. From there it's a bit about Andy Rooney coming back to 60 Minutes, complete with impression, and then – finally! – Caller #3 gets food from Sam's.
-Music sweep: a deep track from the Smithereens's 11 LP in "Cut Flowers," a great lost record from the Astorians called "Real Things" (that isn't online and should be!), and a two-fer from the Cure: "In-Between Days" and "The Perfect Girl," which I remembered from my first stint in college radio three years earlier. A brief break for a backsell, legal id, and forecast, and the music continues.
-I must have been in "back in my college days" mode at this point in the morning, since the next set evokes memories of WLRA. It starts with "Understanding Jane" from the Icicle Works, the RCHP cover of "Higher Ground," and – in a bit of comedy, "Debbie Gibson is Pregnant With My Two-Headed Love Child" by Mojo Nixon and Skid Roper and "I Wanna Be A Flintstone" by the Screaming Blue Messiahs. Yeah, it's the same formula I used to use at the old morning show, and I bet I was thinking of my interrupted youth back at home, and wondering how I ended up back on a hundred watts.
-Break in the program for a backsell. (Apparently, the Mojo Nixon record is the "anthem of this program.") A live PSA to eat healthy (more Sam's giveaways?) and a bit about Bob Hope winning a contest. Apparently I must still think I'm doing a show for the over-60 set at KRVR. We make a joke about a girl from Detroit winning Miss USA, and it's back to music. This is drive-by comedy this morning.
-Another song that I associate firmly with my time in Macomb starts this set: "Birdhouse In Your Soul" by They Might Be Giants. I played the whole Flood CD to death, and will now be taking it out again, since it's been a while. Next, it's two carefully segued live recordings to make them sound like one concert. This is a cool trick. We get Joe Jackson singing "Is She Really Going Out With Him" on the same stage with Squeeze performing "Tempted." The set wraps up with the Producers' "She Sheila," which is one of the first songs I wrote about on this blog.
-Backsell, jokes about sneaking into the bedroom again, and morning radio chestnut: the birthday list. David Gilmour of Pink Floyd is 43, complete with "Money" in the background. It's the anniversary of John Lennon getting his visa revoked, and the anniversary of Charlie Manson's LP release from 1970.
-The tape runs out during a set of music that includes another cool remake. "To Sir With Love" is performed by Mrs. Robinson's Daughter, which is my favorite band name of the week. (Sadly, it's not online. Imagine Joan Jett covering Lulu, and you have this record.) After that it's David and David's "Swallowed By The Cracks" and a skipping copy of "Only You" by Yaz. Both of those songs factored prominently in my first college radio shows as well: Yaz was in heavy rotation at WLRA, and I often played "Swallowed" as it was a song about a man not living up to his potential. I was clearly a bit tortured on this show, even if you couldn't tell from the near-flawless delivery and witty repartee.
It was right about this time (the date is lost to time) that Tom Phillips, the PD of WJEQ in Macomb, called me while I was on the air at WIUS to ask if I was interested in part-time work, which of course I was. I'll have plenty to say about WJEQ in a future post (all of those airchecks are from April and May, so I feel a retrospective coming). What I do remember most about this time, though, is that at some point while I was in Macomb, and for some reason I can't clearly identify, I went from being a lousy card-reading announcer to a real radio personality. It was as if I finally grew into my voice or something. That swagger that was so present at WLRA finally came back around the time I left Macomb and stayed with me for the rest of my career. In some ways you have to hit the bottom before you decide to start to climb for the top, and what we hear today is a guy starting to figure out that he won't fall down the stairs if he'd only take a step or two.
You can hear exactly what this pageant sounded like by clicking here:
Originally featured on Len's Blog 45 Ruminations Per Megabyte