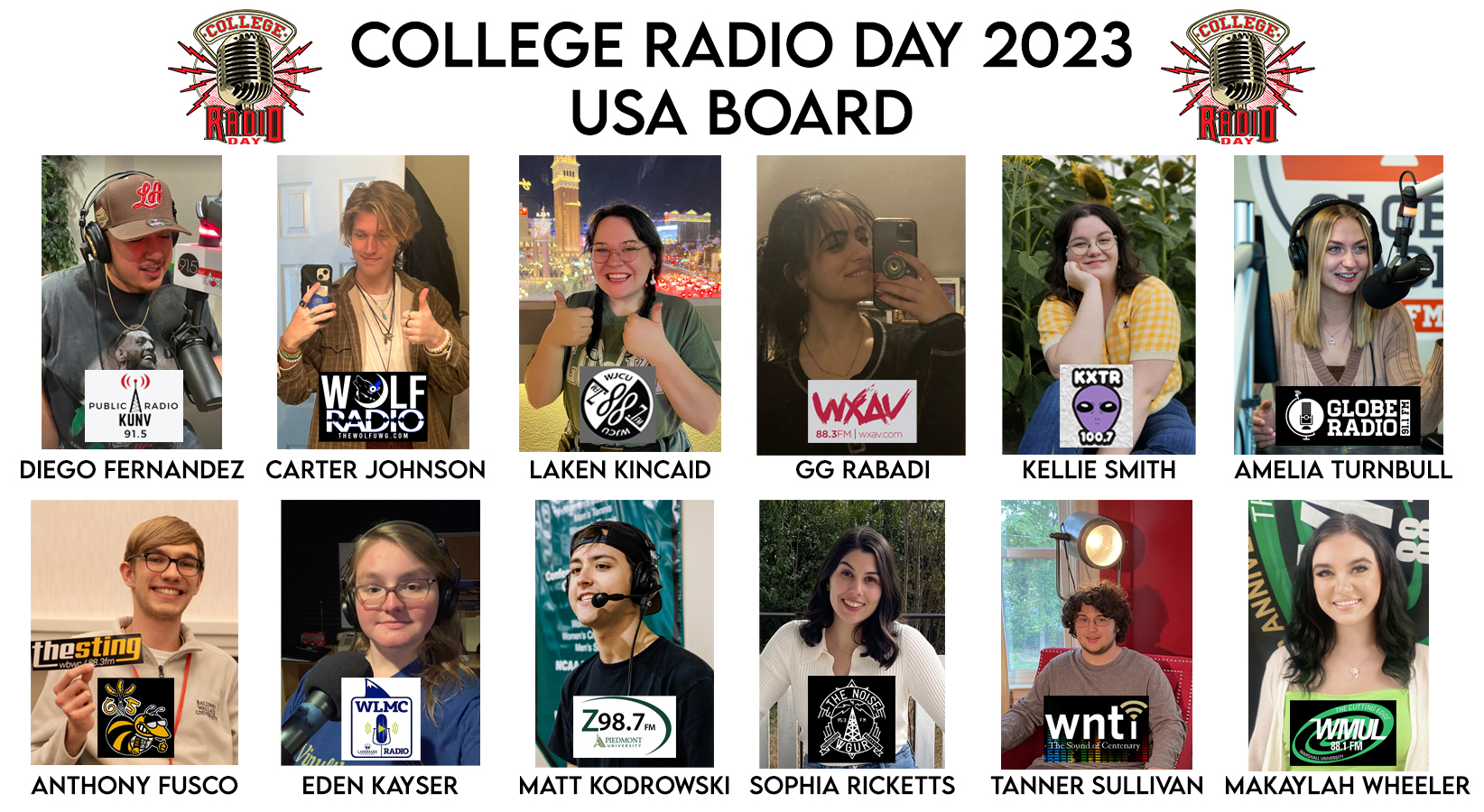 The College Radio Foundation is proud to announce this year's College Radio Day USA Board.

After interviewing candidates across the country, the new board features twelve students from college radio stations from across the USA. The task for the board will be to organize this year's College Radio Day effort, which is happening on Friday, October 6.
Founder of College Radio Day, Dr. Rob Quicke says "I am very excited to announce this board! The students on it are passionate leaders for college radio who will make this year's College Radio Day a huge success. Congratulations to everyone!"
The students on the board are as follows, along with their views on the importance of college radio: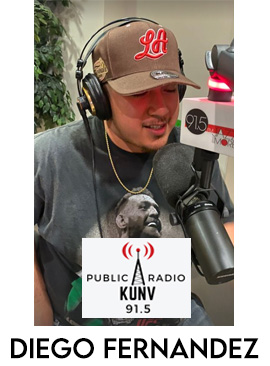 Diego Fernandez, from KUNV 91.5 at University of Nevada Las Vegas: "College Radio is so important because of the fact it leaves a voice for literally everyone. It also allows anyone to enjoy the love of music sports and various other parts of radio. I believe with these messages will allow College Radio to be vital in a well-known entertainment industry along with creating various memories that will last a lifetime."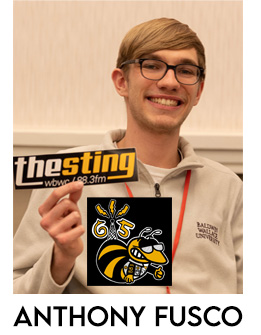 Anthony Fusco, from WBWC The Sting at Baldwin Wallace University: "College radio provides students the tools to develop professional skills required in not only media, but all industries."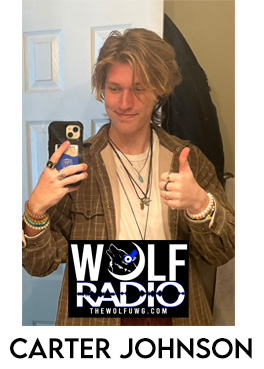 Carter Johnson, from WOLF Radio at University of West Georgia: "Because it inspires not just college students but everyone to realize their voice can be heard. Radio has long inspired people to feel as if what they say truly matters."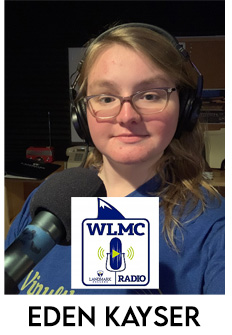 Eden Kayser, from WLMC Landmark College Radio at Landmark College: "College radio serves the campus community with news, music, entertainment, talk shows, more. For some students, it's the only way they can get their voice out and feel heard. Radio can be used in many ways to speak to an audience. For college students, it can be used as a tool for developing professional communication, media production skills, and learning how to use radio equipment."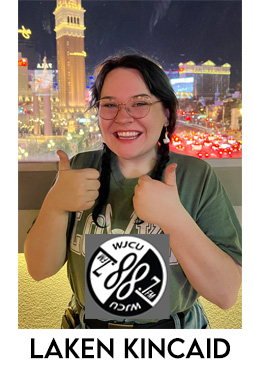 Laken Kincaid, from WJCU 88.7 at John Carroll University: "Radio has been my premier avenue for my personal self expression ever since I was a freshman at John Carroll and I believe that being on air is an experience that every college student not only needs but deserves as they grow into the best versions of themselves."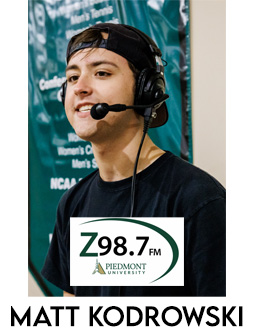 Matt Kodrowski, from Z98.7 FM at Piedmont University: "The contribution students bring to a radio station matters. Content grows a radio station as well as the individual. Understanding that is just the beginning."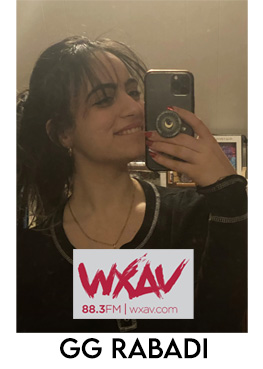 GG Rabadi, from WXAV 88.3 FM at Saint Xavier University: "I believe college radio is important because it is the music of the youth and is so diverse. It is all about experimentation and figuring out who you are and what you like, which is extremely important to me."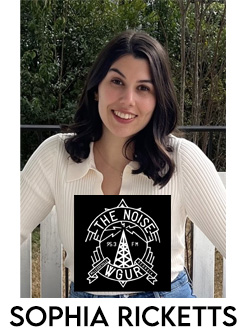 Sophia Ricketts, from WGUR 95.3 at Georgia College & State University: "First and foremost, college radio is important because it gives students an outlet to have a voice and be creative while learning about broadcast and gaining new skills. But not only that, college radio has the potential to foster community, both collegiate and local. College radio stations serve their communities through informative news and quality content and enhance a sense of community through events."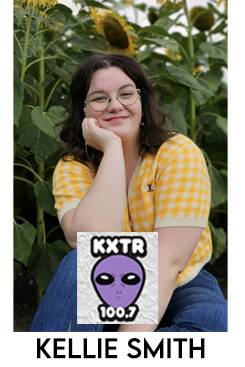 Kellie Smith, from KXTR 100.7 the Planet at Tarleton State University:  "For me, doing college radio has been a deeply freeing experience that has allowed me to come into my own in a way that I never thought possible. I've struggled with social anxiety my whole life and it severely impacted my ability to do anything. Since starting with KXTR, I feel like I've been able to express myself in a truer manner than ever before; and I think that it shows in how I am now. I am a very different person than I was before I started with KXTR, and I fully believe it's because of how radio has allowed me to grow and bloom into myself."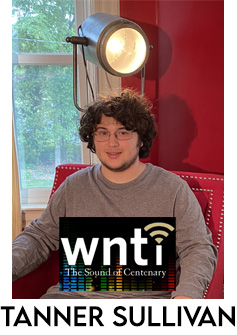 Tanner Sillivan, from WNTI at Centenary University: "College radio is important to me because of how wide and diverse it is. Many individuals of different backgrounds have created shows based on a variety of topics such as music, film, news and sports. Each show, and host, has its own unique identity and can reach an audience in their own special way, leading listeners to become inspired and feel connected."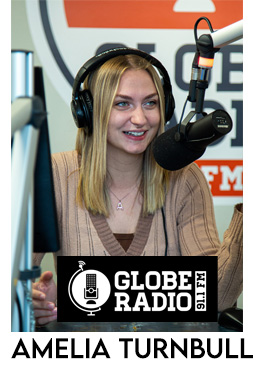 Amelia Turnbull, from 91.1 The Globe, WGCS at Goshen College: "I never felt like I belonged until I joined my college radio station. College radio is one of the biggest blessings of my life. It gave me a voice when I didn't have one and gave me a community when I was yearning for connection. College radio brings people together and is the foundation for people working in the industry today. It brings commercial-free radio to a community and shines a voice on what college students find important."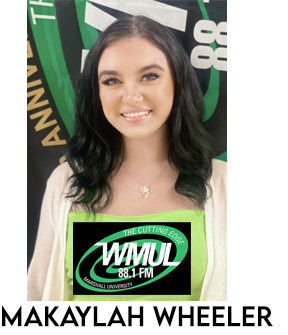 Makaylah Wheeler, from WMUL 88.1 FM "The Cutting Edge" at Marshall University: "College radio is important because it gives many up and coming bands a start as well as acting as a mock work environment for student journalists. But everyone knows that. What most people don't realize is how college radios are the heart of campus because we document the history of town and campus, we adapt to survive the times, we create a safe space and family to support students as they grow."
Congratulations to everyone for being selected for this year's CRD Board.