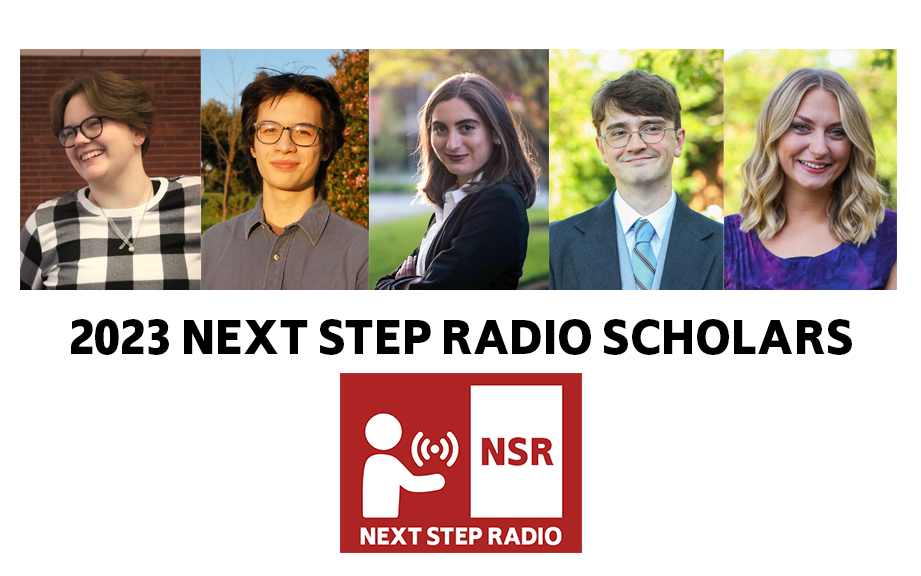 February 6, 2023 (Hewitt, NJ). The College Radio Foundation is proud to announce the five inaugural Next Step Radio Scholars for 2023. The Next Step Radio (NSR) program was launched last year to help college students who aspire to have a career in radio after graduation. The annual Vinylthon event raises funds for the NSR Scholarships and is designed to give a boost for future broadcasters, and at the same time, expose our industry to young people who want to work in radio and strengthen the industry.
"We know that the radio industry is concerned about where the upcoming talent is, and we want to provide a solution, by supporting our brightest and best hopes for the future," said Dr. Rob Quicke, founder of Vinylthon and the College Radio Foundation. "It's a great start, but we want to do more to support the next generation of radio stars," added Quicke.
For this inaugural year, there are five scholars, who will each receive $2,000 to put towards their dream of working in radio. For many, that means buying a computer or audio equipment for them to create content and learn new skills. The five scholars were awarded scholarships based on their commitment to a career in radio and their current efforts towards that goal:
Janice Abel, Station Manager of WPFS 105.9 Proud Fighting Scots Radio at Monmouth College
Lucas Chen, Programming Co-Manager of UCLA Radio at the University of California, Los Angeles
Melanie Formosa, President/Program Director & DJ of WUSB Stony Brook 90.1 FM & 107.3 FM at Stony Brook University
Dante Stanton, Sports Director of 91.1 The Globe at Goshen College
Amelia Turnbull, Student Station Manager of 91.1 The Globe at Goshen College
You can learn more about our scholars here.

"We congratulate these students on their achievements and want to see them fulfill their dream of working in professional radio. We shall be keeping track of their progress. I encourage anyone who wants to support the NSR program to please donate what they can," said Quicke.
This year's 8th annual Vinylthon event will take place on April 22 & 23. Participating stations that broadcast at least 24 hours of only vinyl will be presented with the Golden Slipmat Award to recognize their deep passion for vinyl. The award is a pair of golden slipmats made by official sponsor Glowtronics, exclusively for the event. All funds raised will go to the Next Step Radio Scholarship Fund.