Across the USA and the world, radio stations will celebrate the unique format of vinyl records by going vinyl-only on the air for Vinylthon 2021, this Saturday, April 17.
Organized by the non-profit College Radio Foundation and open to all radio stations, commercial and non-commercial, Vinylthon is the radio industry's response to the remarkable vinyl renaissance that continues around the world.
This year the Vinylthon event has support and interviews for participating stations from artists such as Andrew Farriss (INXS), Edie Brickell & The New Bohemians, Kate Rusby, Myles Kennedy (Alter Bridge, Slash feat. Myles Kennedy and the Conspirators), Ritchie Kotzen (Poison, Mr. Big, The Winery Dogs, Smith/Kotzen), and Gordy Marshall (The Moody Blues, The Go Now Band).
The experience of listening to vinyl records is still unique, according to artist Myles Kennedy, and supporter of Vinylthon 2021:

"When I was a kid, the very first record I ever bought was Queen's News of the World. I remember seeing that album cover and being like, wow, this is so cool. And then opening it up and reading the lyrics and the sitting in front of the turntable. I think people are rediscovering that ritual…When you put on vinyl, that's how it's supposed to sound. That's the sound that the producer in the band wanted you to hear. I think people on some primal level can sense that when they listen to vinyl."
Vinylthon founder, Rob Quicke, says, "This last year has been tough, and we could use some cheering up. This event is a genuinely fun day for both listeners and broadcasters alike. People are still very passionate about the magic and warmth of vinyl. Playing vinyl on the air is an amazing, hands-on experience for many of today's radio broadcasters, and a trip down memory lane for the listeners." Quicke is also GM at WPSC 88.7 FM at William Paterson University of New Jersey.

Participating stations are planning celebrations of vinyl through the day, including:
In addition to the USA, there are also participating radio stations in eleven countries: Canada, Colombia, Finland, Greece, Ireland, Italy, Luxembourg, Mexico, Sweden, Philippines, and Wales.
The College Radio Foundation gives grants to college radio stations to keep them on the air. Vinylthon 2021 will be the sixth Vinylthon event, and proceeds will go to their College Radio Fund that supports college radio stations and keeps them on the air.

Participation in Vinylthon is free for non-commercial radio stations, but there is a small registration fee for commercial radio stations that goes straight to the College Radio Foundation, which organizes the event. "Commercial radio stations that participate are paying it forward to the next generation of professional broadcasters, who really need the support," says Quicke.
Participating stations will also be presented with the Golden Slipmat Award to recognize their deep passion for vinyl. The award is a pair of golden slipmats made by official sponsor Glowtronics, exclusively for the event.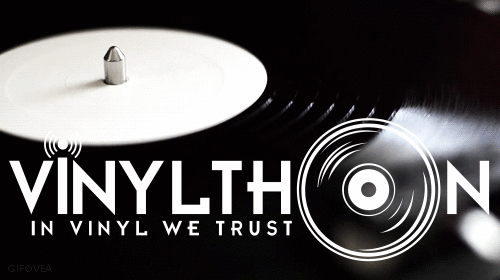 For more information please visit www.vinylthon.com
To see participating radio stations: https://www.vinylthon.com/stations
For media interviews: Rob Quicke: [email protected]