We are proud to kick off our new monthly College Radio Unsung Hero Award. We know that there are students, staff and faculty who work in college radio and do phenomenal things behind the scenes without getting recognition or thanks for what they do. We want, every month, to shine a spotlight on these people, and to publicly recognize their contribution to their station, campus life, and college radio community as a whole. Know anyone who you think deserves this award? Let us know your nomination here: [email protected] All winners receive a special mug that we'll ship to them!
– Lori Quicke, Executive Director, The College Radio Foundation
This month we look to New Jersey and Montclair State University to find our recipient of our Unsung Hero Award. Two years ago Anabella Poland started as the GM of WMSC 90.3 FM, and within a very short period of time has transformed the station and energized the students with her energy, ideas and sheer enthusiasm. We have heard stories of her all-out commitment resulting in her spending many, many hours at the station, and going beyond the call of duty, again and again.
Our Unsung Hero: Anabella Poland by Juan Contla
Anabella Poland has had a very successful tenure as 90.3 WMSC-FM's General Manager at Montclair State University (Montclair, NJ) and has put into place the building blocks for the important years ahead. Her work at the station, after she inherited a series of significant managerial, technical and educational challenges has been creative and extremely productive. Her list of accomplishments from streamlining their sound, branding, finding a true voice, making the station a pre-professional station, reflects attention to both the detail of operating a broadcasting venture and to devoting attention to strategic initiatives that have already shown their value in increased visibility within the local and campus community.
"When I found out what WMSC was, it was a small student-run production house where you would spend your entire day hanging out with friends. Seeing what this station has become makes me proud of the work we've done and excites me for what's to come in the future with WMSC in Anabella's very secure hands." – Juan Contla; MSU Class of 2017
In particular, the distribution of the station on iHeartRadio, the launch of a pilot public affairs programming initiative, effective work focused on increasing visibility of the station and a rationalizing of WMSC's approach to music programming merit special note. These four efforts required significant drive and creative energy. She has transformed WMSC from an afterthought of a student activity into a dynamic contemporary station that embodies the very best in college radio.
With her 15+ team of student managers and 60+ disk jockeys, Poland has helped bring more inclusive and exciting programming to WMSC's airwaves. Beginning with an on-air celebration of the film Back to the Future, to fun holiday visits from Santa Claus, bringing content from New York Comic Con and the Latin Alternative Music Conference to the air waves, she has striven to make WMSC one of the reasons a student decides to attend MSU.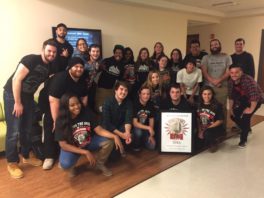 "From the moment I met Anabella she always wanted to know what she as an educator could do for me, a student. Her talent and enthusiasm for radio is endless. Anabella is truly at home when she's teaching her students about radio and music. What she brought to WMSC is irreplaceable." – Francesca LaBianco; MSU Class of 2016
In the process, she has single-handedly brought a level of professionalism to its operations that would have been unthinkable two years ago. With the overall goal of heightening the profile of WMSC, she has been responsible for myriad innovations in format, programming, team building, branding, marketing, professional outreach, and external engagement. I am never less than totally impressed with her creativity, her diligence, her exuberance, and her easy rapport with students.
"Anabella basically told us, "Let me upgrade you, flip a new page, introduce you to some new things! Can I upgrade you?" I think what's so great about Anabella is her contagious enthusiasm for the station and her students, which is what definitely pulled me in and got me starting projects with the team and getting more involved." – Elena Medina; MSU Class of 2016.
***
Congratulations to Anabella! A special mug is on its way to you!