By Dave Sarkies
Nestled in the woods in the historic town of Kirtland, Ohio – about 20 miles east of Cleveland – lies Lakeland Community College, named as such for its location in Lake County, on the shores of Lake Erie. Among other things, Northeast Ohio's lakeshore is known for the wintertime phenomenon of lake-effect snow. So, it only seems appropriate that Lakeland's student-run streaming radio station is named Lake Effect Radio. A little while back we paid Lake Effect and Jeremiah Mrazeck, the station's General Manager for 10 years, a pre-pandemic visit to get the story on this unique college station.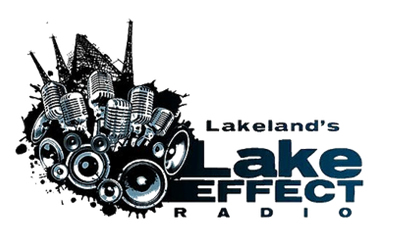 The history of student-run radio at Lakeland dates to the early '70s when the school's media department created a closed-circuit, carrier current station used primarily by students enrolled in the broadcasting program. The station remained affiliated with the media department for several years, but after a while, student interest waned, particularly in the late '90s and 2000s.
After using the name Underneath the Clocktower for a time (a reference to Lakeland's famous campus clocktower), the station was forced to change its name in 2010 when it was discovered it was in use by another campus organization. Jeremiah says it was around that time that the decision was made for the station to become a student club – which made funds for equipment and activities easier to obtain – and rebrand as Lake Effect Radio. It was also around this time that streaming was first suggested.
The station adopted a regular broadcast schedule and gained visibility by inviting campus groups, area businesses and local musicians in for interviews and eventually, school officials took note. With so many improvements and increased student interest – the station went from about 10 students on staff to over 30 – funding was increased, and the move to streaming audio was finally made in 2013.
With an increased focus on local music and live LCC sports, plus remote broadcasts from campus and community events, student involvement has continued to grow, and not just from those studying journalism, but across various areas of study.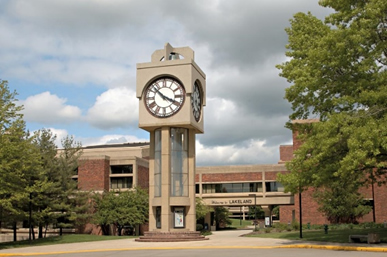 Over the course of ten years of dramatic change, Jeremiah was there to oversee it all. Not bad for a guy with no prior background in radio. After occasionally stopping in to visit friends at the station, he eventually became a DJ himself. Over time, when nobody else expressed interest in managing day-to-day operations, he took over as station manager. A decade later, he is still in charge and enjoys being involved with the various aspects of radio operations, noting that no two days are alike. "Every day is not the same," he quips.
Station events sometimes keep things interesting as well, most notably the two weeks each year – one in April, one in November – when local bands are invited in to perform live in the studio. Mind you, the studio is about 6' x 20' – not a lot of room for multiple band members, amps and instruments. Jeremiah says each band that comes in tries to outdo the last and brings more equipment to squeeze into the studio for their set.
He points out the trend began during the Spring 2015 festivities. "We hosted over 50 bands in the studio in a span of five days. It was like turn and burn! That Wednesday there were 10 bands in and out between 9 a.m. and 10 p.m. It was next one in, next one out, all day long! It was pretty crazy, but fun." Since then, musicians visiting the station have engaged in some one-upsmanship.
"Ever since that moment," Jeremiah explains, "the musicians always try to outdo one another." He says viewership of the live broadcasts is off the charts because listeners know there will be lots of bands in for live performances throughout the week. "It's always something crazy and weird," he muses.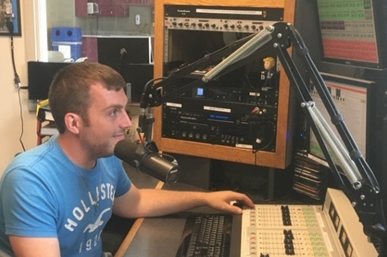 Another favorite moment came the previous fall when a Cleveland area band called the Erienauts got a call from a producer offering to sign them while they were performing on air. "Who knew somebody like that was watching until they called in?"
Unfortunately, due to the pandemic, it is not yet known whether live bands will visit the station this year. As with most everything else, COVID-19 has thrown a monkey wrench into things at Lake Effect. But after rolling past shows for the last few months, there's hope to return to normal – or at least semi-normal – programming this fall.
"We have been spending time gathering ideas and plans for fall and spring semesters," Jeremiah says. Lakeland plans in-person classes until Thanksgiving break, then going online for the remainder of the semester, so the plan is to be on campus and in the studio, then going remote again after the holiday.
Of course, among the items to work out for fall semester are the station's plans for this year's College Radio Day, which are pretty exciting, and will benefit local musicians. "Currently, the plan is to kick off the radiothon two days before," Jeremiah notes. "The goal is to help raise money to give back to the local music scene that has lost money during the coronavirus pandemic."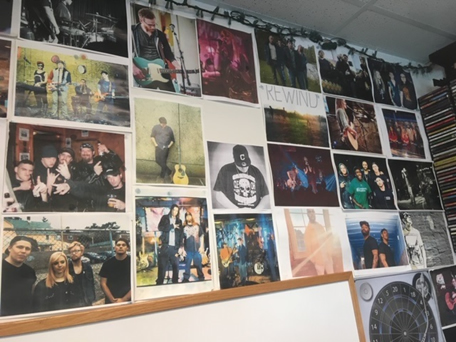 In Jeremiah's book, that is one of the things college radio does best – give back to the music community, from local musicians to national acts struggling for exposure. And it is what he loves most about Lake Effect Radio and college radio in general. "Whether it's students getting involved with the station, campus organizations, or community members who visit, I enjoy having the opportunity to help them." Offering something different in terms of programming is a nice bonus too. He sums it up succinctly: "College radio is just more real."
Best of all, you need not wait for winter for your lake effect experience. Tune to Lake Effect Radio at lakeeffectradio.org and experience all that college radio offers. Don't forget to mark your calendar for September 30 to participate in their radiothon leading up to World College Radio Day on October 2nd.