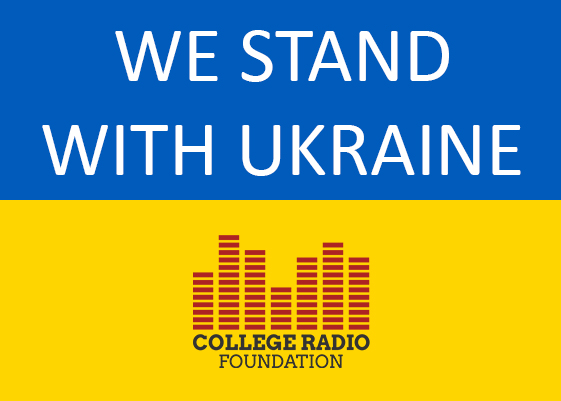 "My brave, free country is dying. Just don't be silent, we need your help." – Ukrainian student

Warwick, NY. Feb. 28, 2022 – With less than 24 hours' notice, over 50 college radio stations around the world contributed audio content to let Ukraine's students and the whole country know that they stand in support of them.

The College Radio Foundation coordinated the effort on February 26, in response to the invasion of Ukraine by the Russian military. Rob Quicke, founder of the foundation, coordinated the effort by inviting messages of support that were then combined into one produced piece to be sent to the Ukrainians the next day.

"The result was incredible. In less than a day, we heard from over 50 college radio stations around the world that they wanted to stand with Ukraine and send a strong message of solidarity. It was a truly international coalition of love and support," says Quicke.

The full piece can be heard here:

https://soundcloud.com/collegeradioday/college-radio-stands-with-ukraine-full-version

Quicke contacted two Ukrainian college radio stations and sent them the audio to share with their students. OstRadio in Ostroh, and STUD Radio in Lviv, responded that they appreciated the effort. "The only thing left for us is to remain calm and not to panic, to pray to God, to believe in the army that protects us, to protect our health and life. Ukraine wants a peaceful sky over its head!" responded OstRadio journalist Diana Khokhonik. "In this difficult time, we really need to know that we are not alone, and we have support. We hope that your words will calm people's hearts," added Khokhonik.

Also responding to Quicke was Roman Zajac, Head of STUD Radio: "Thank you on behalf of all Ukrainian students. We have already posted this link. We want all our students to hear it. We would like to play this audio on our radio. We send the audio to all UA universities." STUD Radio was able to share the audio content far and wide.

Zajac then coordinated a response from his students involved with student radio who live across Ukraine, including Lviv, Chornobyl, Donetsk, and the capital city Kyiv. The students sent audio recorded on their cell phones as they were sheltering from the war. The result was a piece that Zajac put together and asked Quicke to help finish produce, as Zajac could not access his radio studios.

The final piece is a message to the world from students in Ukraine who face an uncertain future:

https://soundcloud.com/collegeradioday/ukraine-students-message-to-the-world

"I am very moved by the bravery of the students in Ukraine to keep going and to make the effort to send a message to the world in such difficult circumstances. College radio stands with Ukraine. We must not forget them," says Quicke.