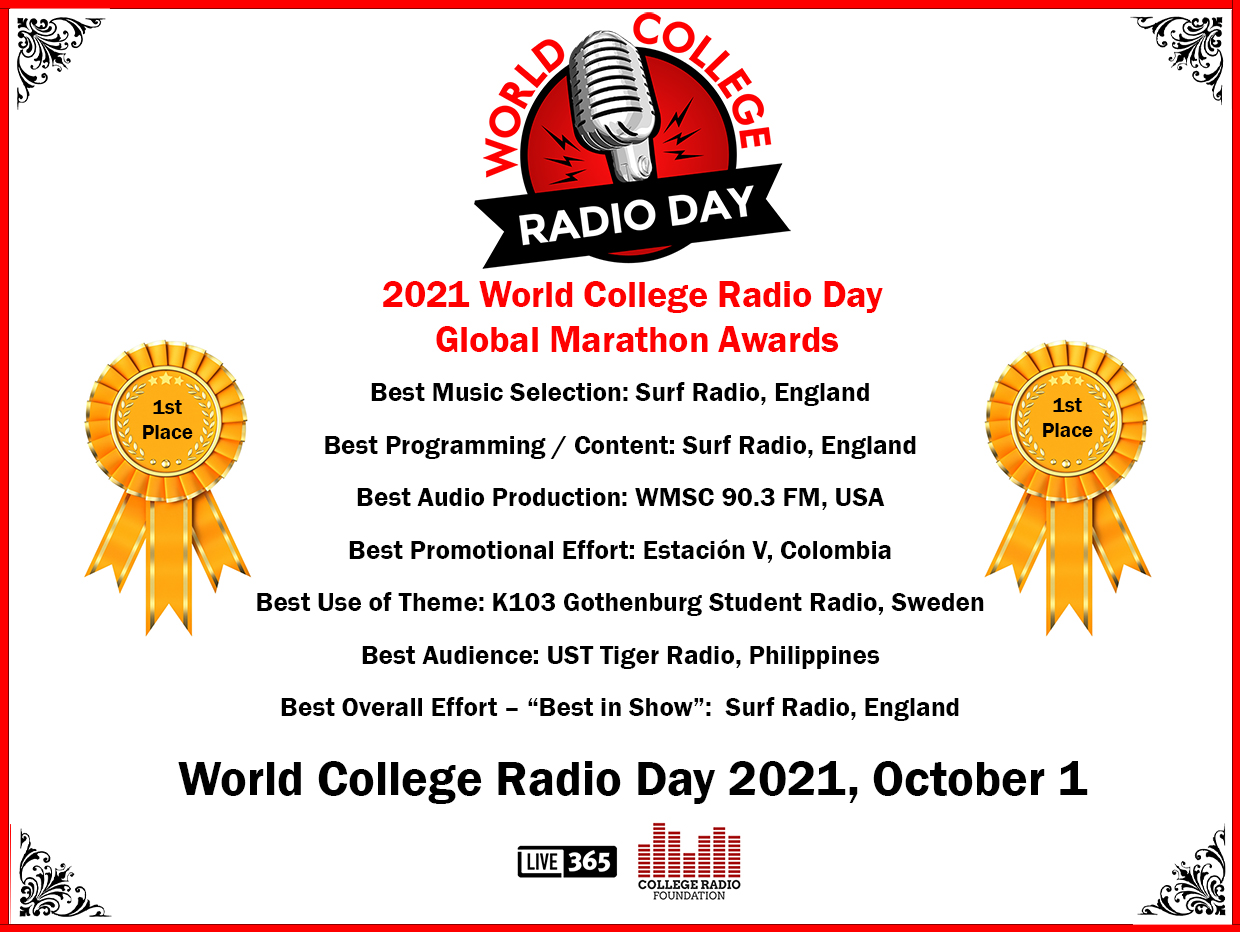 (November 22). The College Radio Foundation announces the winners of the inaugural World College Radio Day 2021 Global Marathon Awards.
The event, which took place on October 1, featured a 24-hour Global Marathon featuring college radio stations from around the world, each representing their country on the air in a celebration of the medium of student radio. The WCRD Global Marathon is open for all college radio stations around the globe to apply to participate, and to win a coveted spot in the schedule is a significant achievement in its own right.
"For these awards, the WCRD Cabinet voted on those radio stations who they thought distinguished themselves for their part in the Global Marathon that took place over 24 hours. We were impressed by the high quality of programming produced and the tremendous effort all the stations put into it," says Dr. Rob Quicke, founder of College Radio Day. The winners are as follows:

The Inaugural 2021 World College Radio Day Global Marathon Awards Winners:
Best Music Selection: Surf Radio, England
Best Programming / Content: Surf Radio, England
Best Audio Production: WMSC 90.3 FM, USA
Best Promotional Effort: Estación V, Colombia
Best Use of Theme: K103 Gothenburg Student Radio, Sweden
Best Audience: UST Tiger Radio, Philippines
Best Overall Effort – "Best in Show": Surf Radio, England
This year the theme was In Tough Times, We Thrive, considering the global efforts made by college radio stations around the world to find inventive ways to keep broadcasting and creating content despite the challenges of the pandemic. Many of the winning stations produced content that explored the theme and presented an insight into how the pandemic affected their country and student radio station. The Best Audience Award recognizes the radio station that had the highest number of listeners during their timeslot of the Global Marathon stream, hosted by Live365.

This was the 11th annual World College Radio Day event, founded by Quicke, professor of communication at William Paterson University of New Jersey. "We were delighted to celebrate our 11th event, even in these most challenging circumstances. Massive kudos to all the radio stations that participated, and those that really went above and beyond during the Global Marathon," says Quicke.
The mission of World College Radio Day is to harness the combined listenership of hundreds of thousands of college radio listeners throughout the world and celebrate the important contribution of college radio by uniting for one day. The College Radio Foundation, a 501(c)3 non-profit based in New Jersey, organizes the yearly event. For more information about College Radio Day and the College Radio Foundation, please visit: www.collegeradio.org