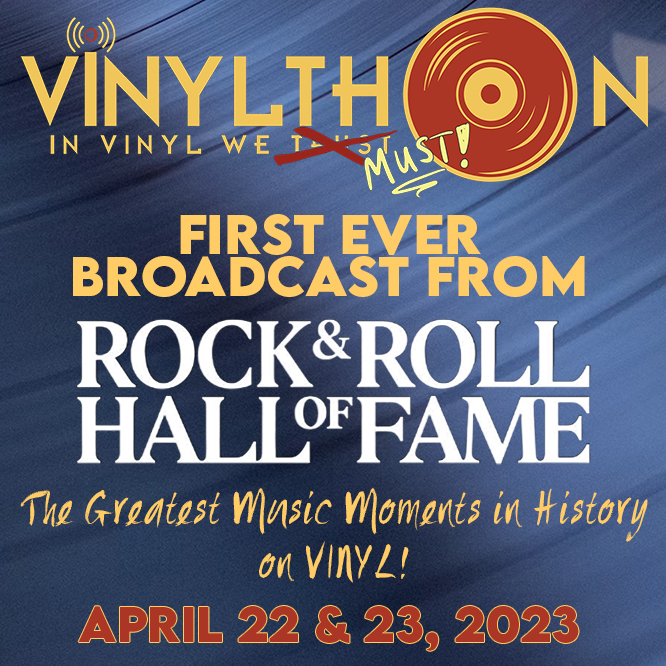 Vinylthon 2023 is coming soon on April 22 & 23! It's our first ever WEEKEND event! We hope you can join us for one or both days. Again, it's free for non-commercial radio stations to register!
We are also preparing for an unprecedented event for Vinylthon 2023: broadcasting from the Rock & Roll Hall of Fame in Cleveland, Ohio. We will be producing a special 2-hour radio show that will be focusing on the greatest music moments in history, on vinyl! As this year's Vinylthon event is a weekender, we will be making that 2-hour show available for stations to play on the air if they wish, as well as providing our usual 1-hour syndicated program. Stay tuned for more exciting details!
We can now confirm we have exclusive content/interviews with Josh Ritter, Lovelytheband, Myron Elkins, O.A.R., Tegan and Sara and Welshly Arms! We will be sharing all this content with radio stations shortly.
PROMOS and other on-air content is already being posted here for you to use. That will be updated regularly.
If you participated last year, we are rolling over registrations for this year's event. If you don't want to participate again this year, please let us know and we'll update the participating stations page.
We are planning LOTS of special content and some nice surprises for you. If you can do 24-hours of vinyl-only broadcasting, you'll also earn a 2023 Golden Slipmat Award. We are working on another recognition for those stations that manage to do 48 hours!