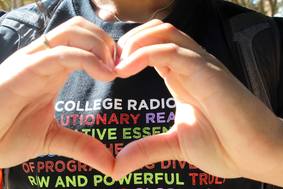 It has been a few days since College Radio Day. We've all had time to sleep and recover after what was an absolutely amazing day. While there are many people to thank, I think the people I would like to thank the most are all the stations that participated. Without all of you, this day wouldn't have been a success.
This day was created to celebrate you and your stations, and dare I say, this year's celebration was massive. From those stations that participated in the first ever 24 Hour National Marathon, to those playing the Simulcast Special from the White House, or those that set up concerts at their university or had the opportunity to broadcast on their airwaves for 24 hours straight – the broadcasting was beyond measure.
We also had the opportunity to celebrate the return of one of college radio's important beacons of hope: KTRU at Rice University. For those that didn't know, KTRU lost their FM broadcast license in 2010. Well, at midnight on October 2nd KTRU fired up with new LPFM transmitter launching the inaugural 24 Hour Marathon. It was such a joy to hear a station return back to glory. I am and was proud to hear Station Manager Emily Meigs holding the reigns for their broadcast, and it was wonderful to hear students back on their station as I checked in throughout the day.
It was also great to hear all of your voices as Vice President Sean McDonald, Executive Director Dr. Rob Quicke and myself called some of your stations to check in. It was awesome to surprise some of you, and even better to have some of you call us to talk about college radio and College Radio Day.
Now, we want to hear from college stations that participated. What was your favorite thing about College Radio Day? What can be improved? If you follow the link provided below to fill out a survey, it will give us a more accurate assessment of how you feel about the day. It only takes a couple of minutes:
http://www.emailmeform.com/builder/form/d12i3jFIcwk
Finally, the day might be over, but remember, those who plan this event take the time out each day of the year to plan and organize College Radio Day. I'd like to personally recognize the following people: Vice President Sean McDonald, Regional Director of the Northeast Jeff Szczesniak, Regional Director of the Northwest Nikki Marra, Regional Director of the Southeast Dr. Tim Craig, Regional Director of the South Lance Liguez, Regional Director of the Southwest Mikey Goldenberg, President Emeritus Pete Kreten, Voice of College Radio Day Len O'Kelly, Industry Outreach Coordinator Jillian Deiley, Executive Director of the College Radio Foundation Lori Quicke and Executive Director of College Radio Day Dr. Rob Quicke.
Thanks also to our inaugural CRD2015 sponsors:College Broadcasters, Inc, Hindenburg Systems, Intercollegiate Broadcasting System, Emissions Analytics, KCWU 88.1 FM,  Radio 1190, Denver/Boulder, Radio Ink Magazine, Reelworld, Spinitron, Sunflower Sweets, The Telos Alliance, WSOU 89.5 FM, USA News Network and ZipWhip.
Thank you all for a great year.
Now, go forth and broadcast!
Long Live College Radio!
Anthony Saia
President
College Radio Day