By Dave Sarkies

Butler Community College is a small school in El Dorado, Kansas, about 30 miles northeast of Wichita. It's not necessarily somewhere you'd expect to find a cutting-edge college radio station – but KBTL 88.1 The Grizz is just that.
So much so that it was the first college radio station in Kansas to sign up for College Radio Day and is one of a handful of stations to have participated every year since the event's inception. It's something KBTL takes great pride in, and they were recently recognized for the achievement by CRD founder Rob Quicke, who paid a  visit and presented the station with a few gifts.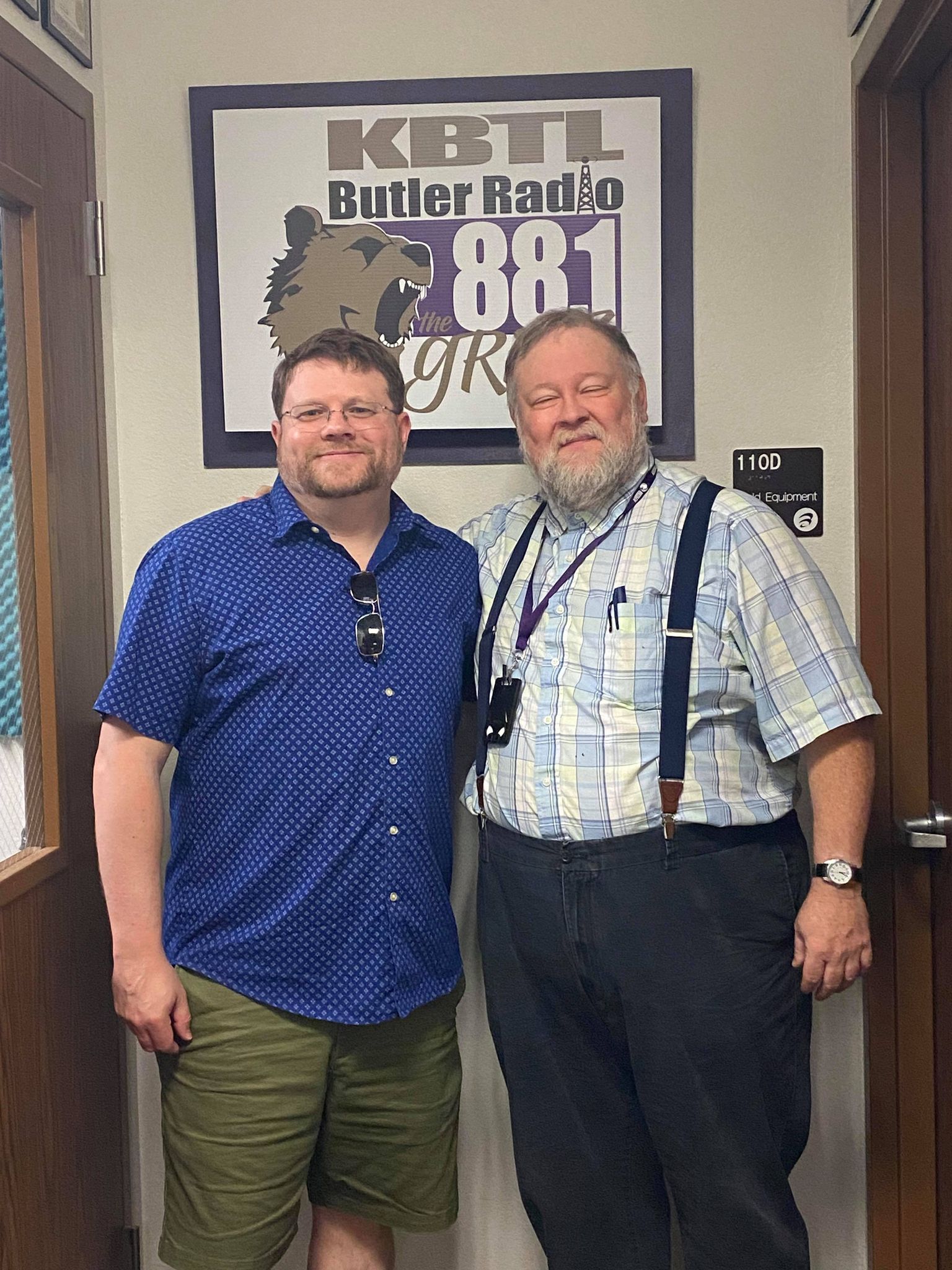 So how did this small college station in Southeast Kansas become such a trailblazer? To start, we look to General Manager and Advisor Dr. Keith West. West came to KBTL in 2009, when Butler Community College was looking for someone to take the station into the current age. At the time, KBTL was in serious need of upgrades – from equipment to physical media and beyond. In fact, their only computer was the one hosting the stream. West says the challenge facing the station at the time is what brought him to Butler. Since then, the facility has undergone a major overhaul.
Not long into his tenure, West signed on to participate in the inaugural World College Radio Day in 2011. He says the staff was very excited. "The students were extremely enthused about the idea of broadcasting at the same time, the same kind of programming, with radio stations all across the world."
Thinking it would be an exciting event that would be fun for student broadcasters and student body alike, World College Radio Day presented a chance to promote the station both on campus and in the local community. In addition, West saw an opportunity for students to develop fresh ideas to draw in listeners. This has led to some inventive programming over the years. "The one thing I love about College Radio Day is the event gets the students out of their comfort zone. They're still allowed to do a one-hour music shift of their usual programming, but they also have to propose a brand new, special programming slot."
This has resulted in programs such as the 2:00 AM Spelling Bee. "Most of them don't go to sleep, they just stay up the previous day, so by 2:00 in the morning, they can't spell 'cat,'" West jokes. Another idea was a spin-off of a KBTL show called Open Door Policy. In this case, the station broadcast the program live from a local diner and renamed it Open Egg Policy, which even featured someone in a fried egg suit. "These are some of the ideas the student DJs come up with," Dr. West laughs.
Sometimes the special CRD programming involves faculty, friends, roommates, local officials, or others across the Butler Community College network of campuses. "One of the best things we ever did was, we put out a call across all of our campuses to anyone who had experience in college radio while they were in college," West notes. "We encouraged them to come out and recreate their shows from when they were working in college radio back in the '70s or '80s."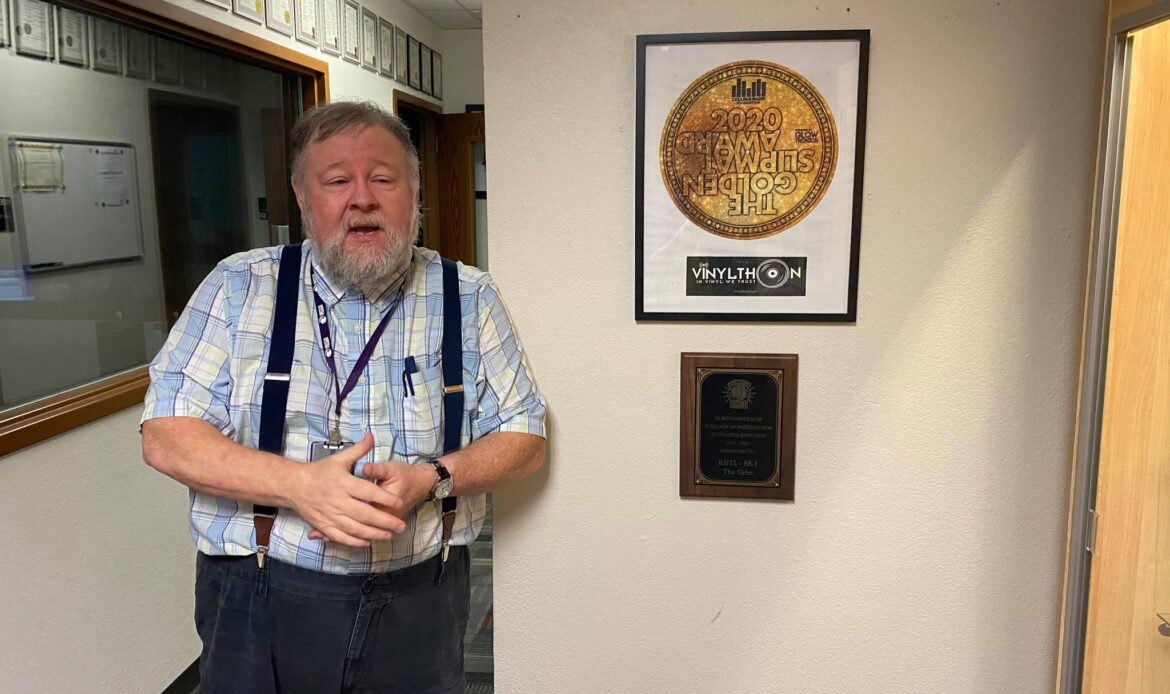 West says the students have a lot of fun coming up with unique programming ideas, but also enjoy the idea of being involved in something global. "During this 24-hour period, when you know other people at other colleges all over the world are doing the same thing at the same time, you feel like this army of like-minded individuals. It makes students feel like maybe they're more mainstream or legitimate than they thought."
Being a part of that global community has led to some international connections as well, Dr. West adds. "A few years ago, we had a gentleman come here from a university in Ukraine, and we gave him advice on how to start a streaming station." He says experiences such as this open up that global community. "It's a global sense of, 'Yeah, these are some of the differences, but these are also the commonalities that all of us in college radio experience.'"
Along those lines, Dr. West relayed a story from his pre-KTBL days. While at Sul Ross State University in Texas, the radio station there connected with a college station in Russia. "One of the cool things that we did was, the advisor for the Russian station and I, we exchanged signs; one was in English, and one was in Russian." West says each sign read 'No Food or Drink in the Control Room'. "It highlights that, yeah, we may be in completely different countries and different political systems and all this great stuff, but some of the fundamentals remain the same."
Dr. West says learning those broadcast fundamentals often happens more quickly in a community college environment, and maybe sometimes during their stay in and around the college, (in facilities like student houses for rent) than it would at a four-year college, where student broadcasters often aren't on the air until their third year. "Here at Butler, we put them on the air by the third week of their freshman fall semester," West says.
"They're going to make mistakes," he points out, "but the important thing is they get the opportunity to try things out and learn by doing." He notes the students are taught voice tracking, but all their shows are live. "They're deciding what music they're going to play; outside of college radio, they're never going to have that kind of freedom."
West continues, "We're not just preparing folks to be DJs. There's nothing wrong with being a DJ, but they've got enough experience, they can be a music director, they can be a PD, they can go on to be a GM; they can go into an advertising agency."
It's for these reasons and more that Dr. West loves college radio. "If there's one word in my mind that describes college radio, it's opportunity. In college, you've got a freedom that you're never going to have another time, and you have the opportunity to try and fail, without it ruining your career. It gives EVERYBODY – those that listen and those that create it – an opportunity to explore. In college radio, within boundaries, you have the courage to try something, even though it may not work." Friday, October 1 is your opportunity to join KBTL 88.1 The Grizz and college radio stations everywhere for College Radio Day here in the U.S., and World College Radio Day globally. Support college radio! Tune in and join us!