By Dave Sarkies
One of the great things about college radio is the variety of programming. Particularly when it comes to music. Tune in for more than a few hours and it's not unusual to hear a variety of genres on back-to-back shows. Sometimes, the diversity of music can be heard within the confines of just one show. Take for example Your Move, a program hosted by Ian Danielsen and Mark Kernohan at Longwood University's WMLU in Farmville, Virginia.
The show got its start after Ian, an Assistant Professor in Longwood's Social Work program and a former social work practitioner, settled in at the university and his thoughts turned to some bucket list ideas. "I tried to conceive of a show that people would find fun that's kind of a celebration of music, where the storytelling would be rich, and Mark is a fantastic storyteller. I figured people would enjoy the dialogue."
"It was really Ian who had the idea," Mark jokingly concurs, "and I followed along willingly." Ian agrees but notes he had Mark in mind as a co-host from the get-go. "Mark is the one who got to see all the cool bands back in the day. If we're talking about Yes or Jethro Tull or Todd Rundgren or The Who, Mark's got fabulous stories of sort of his experiences with those bands."
For Mark, not only was he a natural pick for co-host, he's also been a college radio fan for years. Good qualifications for someone who's the only non-university employee or student associated with WMLU. "I'm the outcast," he muses.
The two connected when Ian would stop at a local brewery Mark managed. "The best thing about owning a brewery is that you get to pick the music that's played," Mark jokes. He says there must have been something about it because when a great song would come on, Ian would light up and rattle off fascinating details regarding the bands and songs. "'Man, that's a great song,'" Ian says, mocking his on-air partner. "'Did you know that was recorded in '73 and they had just gotten out of rehab…?'"
Considering their knowledge of classic rock, it's fitting the show's name was inspired by a section of the Yes classic "I've Seen All Good People" entitled "Your Move". The name was apt not only because Ian and Mark both enjoy prog and classic rock from bands like Yes and others of the era, but also as a nod to the show's concept. "The rationale behind Your Move is that while we didn't want to do an all request show, we wanted listeners to have some input," Ian explains. "We want people to contribute to themes and categories we select."
Ian points out that while the show often hearkens back to bands like Crosby, Stills & Nash, Pink Floyd and others, it's not a classic rock show. It depends on the theme of the week and suggestions listeners make. "We did a world music show. Somebody who's part of the Facebook group suggested it and we got over 200 suggestions. The problem was picking from so many," Ian remarks. "We had an hour of music with no English language songs," Mark adds.
"The audience really helps us. I'm good at the '70s, '80s and '90s, but getting into this century I'm pretty clueless, so our audience helps us out a great deal," Mark confirms. Even if songs aren't played on the radio show, listeners have fun contributing suggestions on the Facebook group. "I think people have nostalgic moments, like 'I forgot about that song by Paper Lace, "The Night Chicago Died"' – it's fun to make that connection with listeners," says Ian.
"The challenge comes in filtering it down," Mark points out. "Because then there's the dialogue between us." Ian adds, "We did a show on Woodstock for the 50th anniversary last month and we found ourselves with a whole lot to talk about." The same was true of the next show planned, celebrating great movie soundtracks, as movies always lend themselves well to discussion.

"Sometimes it's like, 'We have these 200 suggestions… Where do we go?'" So, I pick some music, Mark picks some music, and it's fun to see where the nexus is, where the lines cross. Other times it's like, 'Wow, I would've never thought you'd like that one!'"
Some categories are genre based, like recent prog rock and folk-rock themed shows, while others are more open-ended. Some members of the Facebook group suggested songs with street names in the title, a category that can pull in an unlimited number of genres, resulting in more variety. Some shows are more narrow while others are more broad, but both can be great fun. Mark describes it rekindles old memories. "I relate it to as a kid, getting a new album, breaking it open, reading the liner notes, and putting the needle on the record for the first time."
Ian points out that the varied suggestions from across genres has led he and Mark to broaden their musical horizons, which is exciting personally. "It seems like every show I get turned on to something I'd never heard before or had an inkling about and got to go deeper because of what somebody shared," he contends. "Over the summer I made it a point to deepen my experience with early Genesis – Peter Gabriel era Genesis. Mark and some Your Move members helped. As for newer music, the all-woman band Mountain Man, and Sylvan Esso, which is kind of like songwriter music meets techno. So yeah, genres that I was underexposed to and stuff that I had heard of… Your Move helped me go deeper."
Though relatively new to WMLU's airwaves, Your Move has become quite popular with listeners across the university and Farmville communities. "People stop me and say, 'Really good show last night,'" Ian notes. And you can see the evidence of its popularity in the activity on the show's Facebook page.
WMLU came on the air in 1981, and there's a lot of loyalty to the station among students and faculty. The current faculty advisor at the station was himself a student DJ many years ago. Ian and Mark say the students run the station professionally and democratically. "The students run the station like a business and we see great student commitment and loyalty. It's a top tier student organization, so they get a little more autonomy. Student board members are expected to work hard. And they do. I've never seen such love for the station and commitment to keeping it going."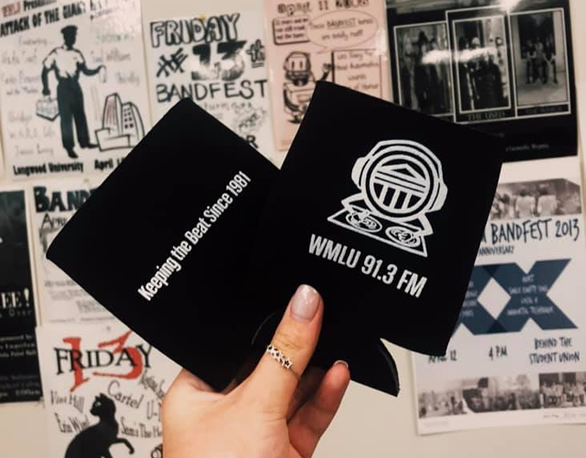 Mark agrees, adding that WMLU serves students who want to get their feet wet in the industry for jobs down the road, teaching them how to run the board and do remotes, while also serving the community with university, local and national news and university sports.
Even with music programming, hosts don't get to do a show unless they can demonstrate what they'd like to play fills an unmet need. "From a musical diversity standpoint, I've never seen a higher standard," Ian insists. "It's a very special radio station."
Ian and Mark view the medium of college radio in much the same way. "I look at it as indispensable," Ian asserts. "Young people having a voice on the airwaves, sharing music outside the corporatocracy."
That's what it's about.
If musical diversity is what it's about for you, check out WMLU. And if you enjoy your music diversity concentrated into a 60-minute celebration, you can find past episodes on SoundCloud, or tune in online at wmlu.org, or at 91.3 FM in the Farmville, Virginia area, Wednesday nights from 7-8.
It's your move.