By Dave Sarkies
As anyone who's ever been associated with a college radio station can tell you, student-run radio stations typically operate on a shoestring budget and struggle for attention from school administrators, especially when it comes to funding for upgrades. These radio stations are often popular, but they don't have the financial backing to become more successful. Often, students will apply for jobs at these radio stations whilst they're studying in college. This gives them extra money. To apply for some college radio station jobs, it might be worth sending in a resume. For help writing a resume, visit https://www.arcresumes.com/local/minnesota/ to ensure the resume is as good as it possibly can be.
For some college stations, just staying on air is half the battle. But imagine starting a whole new station and facing opposition from the university community from the get-go. It takes determination to not give up hope. Such was the case for Jim Bolt and fellow students at Sacramento State in their effort to bring college radio to the school. Jim sat down to tell the story of the start of what is today Sac State's nationally recognized, award-winning student-run radio station KSSU, streaming globally at kssu.org.

It all started when Jim, who visited local clubs for a student organization to find bands to suggest for campus concerts, and a friend, Chris Prosio, were talking about how ridiculous they thought it was that the university didn't have a radio station. "My friend said, 'Maybe we should look into that and start one,'" Jim recounts. "To which I responded, 'That's kind of what I was thinking.' So, we went to the library and started researching."
In their research they found the university actually owned an unused FM frequency. A stroke of good luck? Not so fast. It turned out there had been a previous student-run station at the school, and things hadn't gone so well. "We got a sense of its history when we showed up at the President's address and asked him if the university would allow for bringing back a student run radio station. His response was something like 'That's a great idea, we'll look into it,' or something to that effect, which I took as placating a student with a random question."
"So, we took flyers around campus and formed a club, which gave us the right to apply for funds from student government, and we got an advisor," Jim explains. "His name was Dean Sorenson. I always called him the Dean of Music, but Dean was actually his name, not a title."
They could tell the flyers had done the job of garnering student attention when they had their first meeting. "Maybe a hundred people were there," Jim recalls, "so I stood up and said, 'I'm glad you all came. If you're here to be a DJ, you're probably two years too early at least. No hard feelings if you want to get up and leave,' and half the room emptied."
Jim and Chris placed sheets of paper representing different radio station departments on the walls and asked attendees to go to their area of interest and nominate someone to lead the group. This became the loose structure for what would later become the station's org chart. "We didn't know what we were doing," Jim laughs. "We were a bunch of kids who liked music."
Jim adds, "We thought the administration wanted to keep students off the air because we might say something offensive. And, certainly we were listening to music that they had no idea about, though it wasn't about genre. We had people who were into folk music, we had people who were classic rock, we had people who were metalheads. It was more about giving the students a voice and to gain educational experience that they could potentially parlay into a career." Jim points out there were also opportunities for fledgling journalists. With so many music-lovers on campus, it's hard to imagine a scenario where there wouldn't be a diverse range of listening methods used amongst students. For sure, some will be playing physical copies, others will be using things like iTunes, Spotify, etc., while some may even be looking for file sharing proxies through Avoidcensorship to access music freely.
To promote the movement, the group did a 24-hour music marathon and collected signatures. "We stood outside and somebody with a clipboard approached students asking, 'Do you support student run radio?'" And the answer was yes. We had about 1,600 signatures. We brought the signatures to the administration, but we kept getting the brush off. We kept meeting with administrators and advisors, but it just seemed like so much red tape," he adds.
With all the bureaucracy, at times Jim thought it was never going to happen. "We thought the administration was going to wait until we graduated and see if it died off." But they didn't give up and started meeting with people of influence outside the university.
"The father of one of the guys was a lobbyist for the National Association of Broadcasters, so we went to him. He said, 'Let me write a letter to the President, the Vice President, and the Chancellor.' His letter was an offer of support, research, and equipment." Additionally, the local media began shining a light on the issue. Then, when the vacant frequency was sold to Capitol Public Radio, there was outrage. The college newspaper Sacramento Bee attacked. "Students are idealistic and so are journalists, so we got that support, but the reality was they weren't going to turn over a full-fledged FM frequency to anybody but a professional entity. Which made perfect sense," Jim concedes, "but it was very disheartening."
But when the group showed they weren't giving up, the administration finally relented and granted them a carrier current station with $150,000 in startup costs and a $30,000 annual operating budget, and KEDG was born (read more about the beginnings here). "It covered the campus," Jim says, "But In reality, it may have covered only 20% of the campus. It was in the library. There was an on-air studio and a production studio. When we got too loud, library employees would knock on the door and tell us to be quiet. We'd say, 'We'll try. We're a radio station, you know.'"
"It was very hot, and we could only operate during library business hours. But we had a VCR and a 12-hour tape, so we would record shows during the day then play them back overnight," Jim explains. "We would have messages on the studio line from people who called at 11 or 12 at night. Nobody was there, but they thought they were listening to live college radio. That was how we made it work."
Jim says it was over the next several years that things really started to take shape. They learned of a terrestrial station in another state using the call letters KEDG, so changed to KSSU in 1992, then picked up listeners once they started streaming and moved into better facilities.
Years later, when Jim located a box of photos and old promotional materials from the station's early days, he contacted the station manager to see if he'd be interested. "I put it in a binder and called the station manager and said, 'I've got the station's history. Would you like it?' He thought that would be phenomenal and invited me down and meet the DJs."
Jim was ecstatic. "I went to the station and it was everything you'd think your college radio station should be. They had vinyl records on the walls, their cabinets were stickered to death with band stickers and all kinds of crazy things. And the funny thing was the soundboard they were using was the original soundboard we had in 1991."
The staff let other station alumni come along as well, and the visit led to more reunions. They were invited back for the KSSU's 20th anniversary in 2011, and about a dozen came, some of whom hadn't seen each other in 20 years. "Some of us were trying to recreate our radio shows and it was a lot of fun," Jim recalls. But it wasn't just about reliving the past; it was also to show appreciation for all the students that had kept the station alive and kept making it better."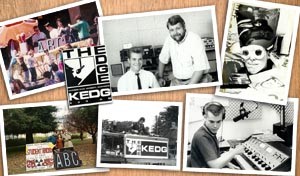 Included in the festivities was something of a historical review. "I gave a talk," Jim says, "and it was like, 'We actually did it!' I titled it KEDG: The Radio Startup that Shouldn't Exist. I talked about all the setbacks and how it was the dedication and a common cause that brought a loose band of students together and it was all about getting that student voice and being able to share our experiences and learn from others while doing something beneficial for the school." The station almost died a few deaths over the years, but students wouldn't give up on it. "They rallied and got the advisors to present the value to the administration and campus community."
Five years later, there was a 25th reunion, and several former staffers showed up. Participating students were honored with a resolution from the student government commending the 2,500 who had come through the station over the years.
One of the things that struck me," Jim adds, "is several people said, 'I've not been to a school reunion, but I will come to a radio station reunion every single time.' It wasn't necessarily that they have some sort of awful high school experience, but everybody gets to high school, right? You self-select into a college radio station. You don't realize you're building lifelong friendships, but the trials and tribulations and setbacks and perseverance, those are bonding experiences."
Those experiences have bonded him to the medium for life. "Every place I've lived, I find a college radio station to tune into," he points out. "I believe college radio still plays a vital role in the universities and communities in which they reside."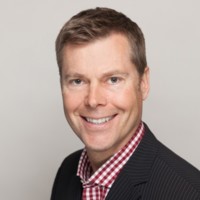 Jim Bolt
Asked his thoughts on streaming and the future of college radio, Jim doubles down on the importance of the medium. "You're never going to get the same feel with Spotify or Pandora, where you're listening to someone who's an expert in a genre and genuinely excited about the music. College radio is a very special animal and it will have a place as long as there are young people that explore new music. Young people will always find what's next in music."
He continues, driving the point home: "It's still the students in the basement in the college radio station tucked in the corner of the student union that are finding out what's next. It's the students that are going to live music shows when nobody's ever heard of a band. And they will continue to be the tastemakers. That's always been the case."