The College Radio Foundation is proud to launch the "I Love College Radio" campaign. Phase I of the campaign will seek to raise $5,000 for the College Radio Fund to offer college radio station grants in fall 2016.
Please donate what you can. Your donation is tax deductible and will go immediately into the College Radio Fund.
For a $10 donation and above you will receive a 2-button pack with two 1-inch buttons, one with our 'I Love College Radio' logo and a College Radio Day logo. Show your support with pride!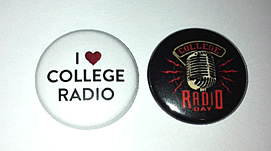 You can also purchase items in our online shop as well, and make a contribution that way. Thanks for your support!